Did you know that Google Shopping ads can have a 20% higher CTR (click-through rate) than traditional Google text search ads? There are a few reasons for this that can be summed up as follows: people who click through from Google Shopping displays have a more specific buying intention, which therefore results in boosting more targeted traffic.
Besides the convenience and conversion implications of Google Shopping bringing products straight to browsers, another big selling point is that they require less admin than traditional text ads and ad copy is dynamically shown based on relevance, not keywords. It should be no surprise, then, that Google Shopping is becoming a top PPC marketing choice for ecommerce sellers.
Having said that, 'less admin' doesn't mean 'no admin'. Like with any good PPC strategy, the key to its success is in the monitoring and optimization, allowing advertisers to make the necessary tweaks to ensure campaign success.
In this post, we will look at the top 6 ways to optimize your Google Shopping ads to get more clicks.
1. Set Up For Optimization from the Get-Go
The first vital component of Google Shopping optimization starts at the beginning with the setup. Setting up your feeds and product groups correctly is essential for ensuring you are able to make real-time tweaks when you need to and makes proper product feed maintenance possible. Your product feed included the product title, ID, category, type, availability, price, your landing or product page link, and of course your product image. When creating your shopping ads, you want to not only make sure the information is correct, but to group your products into good product groups for optimization, allowing you to tweak each group separately.  
Let me explain further. Say you're creating a Google Shopping campaign; you could split products into say these two groups:
Products that are unique, where competition is low

Products that have lots of competition
Obviously, between the two your bidding strategy would be different and separating them allows you to optimize separately until they are both giving you the ROIs you need. You can find out more about this in Google's Manage a Shopping campaign with product groups guide.
2. Know Your Metrics and Reports
The next key step in ensuring you have the tools to optimize is ensuring you are looking in the right places for the right data to make your changes. The top four reports you want to review are:
Item ID Report:

This report will tell you the performance of each specific product. Sorting this data by clicks will ensure you are able to quickly see which are your highest- and lowest-performing products overall. How does this help? Say, overall you have a well-performing product group, but two out of that group just aren't bringing you the results. You can then delete these products from the group and help eliminate spend on products not getting conversions.

Device Report:

This will tell you which device is bringing you more traffic from your Google Shopping ads. Some product groups may be doing better on one device than another, and therefore you can eliminate non-converting devices to improve your ROIs.

Search Term Report:

Although you don't use keyword terms for Shopping campaigns, you have access to the search term report. This report will show you which queries users used to find your Shopping ads and can order them by cost. This query data can teach us a lot. You can also use this data report to find high-performing search terms that you can then use in your tradition Google search ads, which brings us to the next point…
3. Exclude Search Queries From Google Shopping Campaigns
As we know, we don't bid on keywords for product display ads. Google, however, uses search queries to determine which products to show. Which means that by monitoring which searches are triggering your product ads and whether searchers are then clicking through, you can then filter low performers. Reviewing these searches is, therefore, a must for optimization, as this will help you make the adjustments needed for more clicks and better ROIs.
What you want to do is filter these by cost per conversion, to find out which searches are costing too much, ultimately driving up your ad spend.
For example: Let's assume you are getting 40 clicks from a search query, however, it is only resulting in one sale of $100. Another term brings you 60 clicks, however, it results in 4 sales of $100, giving you a much higher conversion rate. You may be spending more on that search term, but your cost per conversion is much lower. By monitoring these terms regularly, you can ensure you get the most clicks for your spend.
4. Delete and Edit Non-Performing Products
Just like eliminating search terms, you are able to eliminate the products that aren't performing to help optimize your campaigns. As we mentioned, you run campaigns per product group, and if products within that group aren't performing it can bring your whole CTR down.
This is why the best way to optimize would be demoting individual products within that group that is not converting. One of the easiest ways to monitor your Google Shopping is through product data management and feed solutions such as StoreAutomator, allowing you to make quick channel updates from one dashboard.
5. Google Shopping Bid Optimization
Getting your bids right will ensure your products are seen, and in turn, improve your chances of clicks… and clicks mean more targeted traffic to your site and more product sales. Your bids should be determined by the price, product margin, and your average conversion rate. Let's elaborate using an example.
Let's assume for this example that you are selling a product with a selling price of $50, which costs $25 dollars to make and has an average conversion rate of 2%. You can work out your optimum bid starting amount as follows:
Price

–

Cost

=

available profit, which in this case would be $25

Available profit

X

conversion rate (2%)

=

0.50 cents, which should be your desired  max CPC

Therefore, you would start off at bidding 0.25 center per click (50% less than your maximum) and then tweak based on your results
When it comes to Google Shopping, you want to make small changes and tweaks to find your bidding sweet spot, starting low and slowly building your bids up until you're getting the CTRs you need. Ideally, you will want to be reviewing and adjusting your bids once or twice a week to ensure your campaigns are performing well, which you can either do yourself manually or with the help of tools such as Traffic Booster.  
You will also need to take the competition of that product into consideration, as the more popular it is, the more competition it will have and therefore the higher the bids will be. Which brings us to Google Shopping optimization tip 6.
6. Keep an Eye on the Competition
Price plays a big role in Google Shopping campaign success. The most obvious reason is that Google Shopping ads consist of the image, the title, and the price only. This means that if a shopper is deciding between two products that are described the same and look the same, clicks will be based on price. Therefore, to ensure you are not pricing yourself out of clicks, you want to keep an eye on your competitors in your rank and their prices.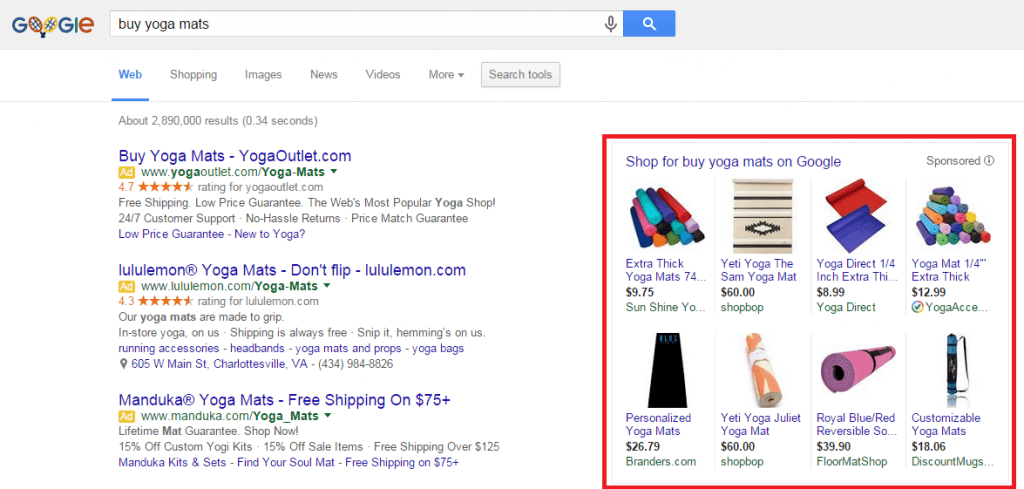 The easiest way to do this would be to use tools such as The Search Monitor, a tool that helps you 'monitor shopping ads as they appear on the major shopping engines.'
Pro Tip:
Using special offers is a good way to not only attract buyers with a 'deal,' but allows you to be price-competitive when a new competitor arises with a slightly lower selling price. Check out Google's Promotion How-To Guide for more details.
—
There you have it: how to optimize your Google Shopping ads to get more clicks and sales! If you're looking for more product feed help across channels, be sure to head over to our Data Feeds Are Crucial for a Successful ecommerce Business guide for great tips.