When I was a kid and the family needed something, like an appliance or a bedspread, we went to The Mall. Usually before we made the big drive and the half day commitment, mom and dad looked through the paper for coupons or sales ads. Of course, I loved going to The Mall: the lights, the high ceilings, the smell of just-off-the-truck merchandise. My parents probably didn't enjoy it as much. They worked all of the time and their free time was precious. Further, how could they know they were getting the best deal? How could they know if the brand they bought would last? Dare I label this as "slow" shopping?
Maybe we'll see a time again when people want to go from store to store in order to savor the multi-step experience of getting a good deal, but Amazon made a bet that customers simply want a great deal and great products without all of the literal leg-work. Of course, as one of the largest retailers in the world, they are winning that bet. In order to ensure that the shopping experience is satisfying, gratifying, and convenient, Amazon must support and encourage customers while creating a viable marketplace for sellers. Sellers have to satisfy customers. If they do, they'll win the "Buy Box" which is Amazon's reward for being a proven seller. Earning that reward may very well start with great reviews.
The Golden Rule
Amazon doesn't just provide a single place to compare products; it's created a market where the customer's product reviews and seller feedback replace the "in-store" experience. Amazon knows that customers can't touch and feel the products. They have to fill that gap by creating the experience of hands-on shopping.
Feedback is the modern equivalent of the full-page ad, a coupon, and a subjective "Consumer Reports" interface while feeling like you are inside the mall. Here's what Amazon says about it:
How to get a Great Feedback Score
Your feedback rating is one of the most important measures buyers use when making purchasing decisions. To be a competitive seller, you must build up your feedback score. Imagine you are considering buying an item from two sellers. After comparing the same item at the same price, which of these sellers would you buy from?
9 stars over the past twelve months (5054 ratings). Seller has 11326 lifetime ratings.
6 stars over the past twelve months (72 ratings). Seller has 72 lifetime ratings.
How do you build a great feedback score? First, make sure that you understand and follow Seller Best Practices. Next, make sure to follow the Golden Rule by providing buyers with the kind of buying experience you would like to have.
For Third Party Sellers, feedback is the equivalent of the bells ringing when another customer opens the front door of your shop. In the old days, we relied on a merchant's reputation, their location, and our previous experience. We also relied on feedback, only in the "slow" shopping experience, a recommendation for a product or store was more serendipitous. Now, it's Amazon's niche and area of expertise. They are constantly collecting information about customer behavior right down to how long one buyer's mouse hovers over a product.
"This [feedback] metric is extremely crucial to re-sellers because they often compete with other sellers who sell identical products. Sellers with better feedback scores, product reviews and prices tend to win the coveted Buy Box more often. And winning the Buy Box means more sales."
The Golden Rule and The Buy Box
Once a customer lands in a seller's Buy Box they've literally stepped inside the shop door to "hover" over an item.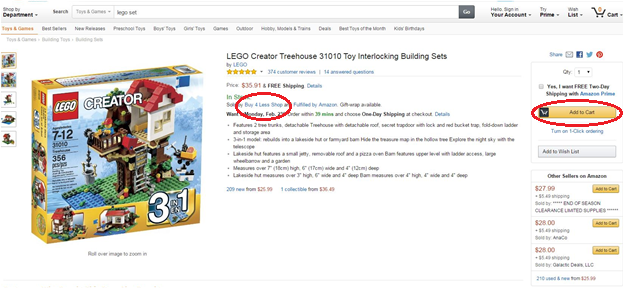 Found on: http://www.webretailer.com/lean-commerce/strategic-pricing-amazon-sellers/#/
Sellers need the Buy Box to truly compete. They can't just rely on price; they have to get customers "in the door." Customers have to feel confident about their purchase, it has to feel good, and Amazon has mastered how to help sellers convert consumer interest to sales. Their message seems to be: Take care of your customers.
Winning the Buy Box relies on Amazon's own algorithm, which is largely based on these three factors, but notice the emphasis on customer experience:
Conversion Rate* – These are factors that Amazon has found have a statistically relevant effect on conversion rates. Examples of conversion rate factors include customer reviews, quality of images and pricing.
Relevancy – …They gather the results, and then they decide how to list them. Relevancy factors tell [the algorithm] when to consider your product page for a given search term. Relevancy factors include your title and product description.
Customer Satisfaction & Retention – How do you make the most money from a single customer? Make them so happy that they keep coming back. Amazon knows that the secret to max RPC (revenue per customer) lies in customer retention. It's a lot harder to get someone to spend $100 once than $10 ten times. Customer Retention factors include seller feedback and Order Defect Rate.
Of course, price does matter, as does a seller's enrollment in FBA. But even these factors point to overall customer satisfaction. A seller has to do more than be present in Amazon, they have to take advantage of Amazon's incredible research and insight into customer behavior. This sets them apart from Google. "Google says, "What results most accurately answer the searcher's query? Amazon says, "What products is the searcher most likely to buy?"
Not so Golden?
According to Startupbros, Amazon specifically looks at negative seller feedback:
Interestingly, Amazon actually claims not to track positive seller feedback; at least, not for the sake of their product search algorithm.
Instead, they track negative seller feedback rates, or frequency. It doesn't matter how bad the feedback is – all negative feedback is the same, and it all counts against you equally in terms of search result rankings.
To be clear – as a third-party seller attempting to win the buy box… you want your seller feedback as high as possible. However, negative feedback rate is the only metric with a known effect on product search results.
Sell as if you are selling to you!
Sellers have to employ a variety of tools to compete on the global marketplace, but Amazon has not only designed the tools and created the appropriate metrics to help sellers to compete, they've adhered to the Golden Rule: Create the experience you would want to have. Even if I wanted to do some slow shopping, Amazon's created a shopping experience that has correlated buying, selling, and satisfaction. I don't know if I'll ever pull an item off a shelf without thinking, "Wait, I should look this up on Amazon." And if you're a seller, you want me in your Buy Box. Once there, your reviews and feedback could potentially make me a customer for life. Golden.