The truth is if you want to take your established ecommerce brand and grow it into a multichannel converting machine, you need to diversify across marketplaces and channels to reach even more customers and increase your sales. To do this effectively, you're going to need a robust product data management tool to ensure you are creating a consistent customer experience across all your channels in real-time. This means knowing when to upgrade to an advanced product data management tool can make or break your growing multichannel business.
If you are a merchant with an ever-growing list of SKUs that fluctuates from channel to channel, and you're not yet using any product data management tools, you're missing out in a big way. Even worse, if you are using a basic management tool without the advanced functions needed to grow with your business into a multi-million dollar ecommerce empire, then there is a big chance your competitors are leaving you in their dust.
Why? Because a good management tool will enable you to keep your product data consistent on all channels in real-time, make catalog uploading quick and easy, help reduce the hours and hours of the workforce needed to optimize front and backend data and enables you to easily and consistently grow your product catalog while automatically managing suppliers and fulfillment.
In this post, we give you the six benefits of using an advanced product data management tool to help streamline your business and boost sales.
1. Takes Streamlined Multichannel Listing Management to the Next Level
One of the top benefits of using an advanced product data management tool for your ecommerce business is in its listing management capabilities. Taking multichannel listings to the next level, an advanced tool will not only let you create product listings from scratch but let you quickly and seamlessly list products per channel, include and exclude products with a tick of a box, continually sync across all channels and warehouses, offer inventory masking and more – all from one convenient dashboard.
A proper product data management system not only helps you maintain more than one channel product catalog from one central place but should include and sync with ordering and warehousing data to ensure new products or bundles are released quickly and that your product data is always correct. Additionally, advanced data management tools allow for exceptions, whereby you create product listings from scratch when needed, while simultaneously offering bulk editing actions and data overriding.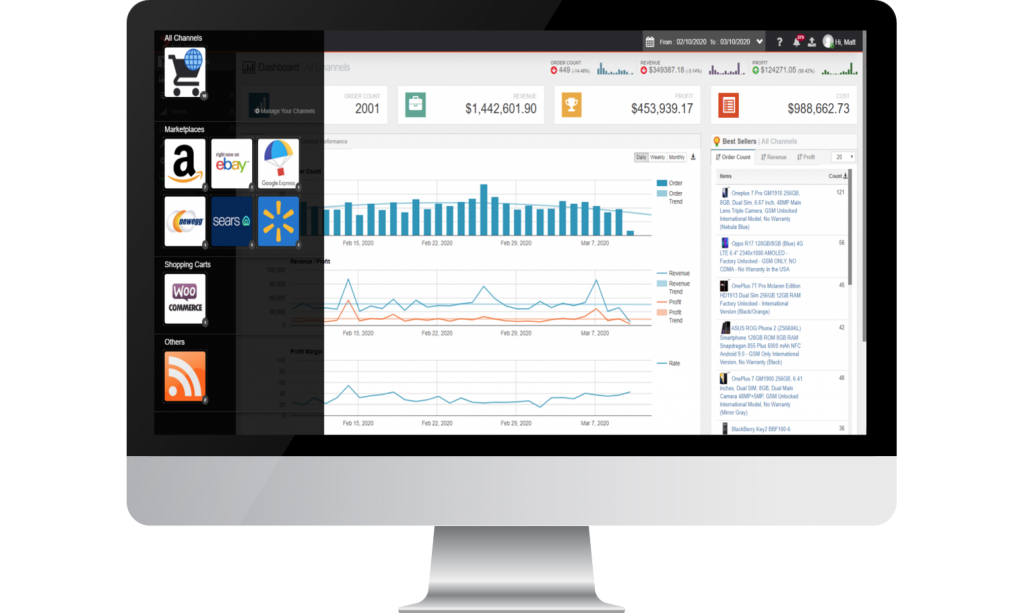 In short, with advanced data management tools, you are getting far more listing options that can be quickly adapted per channel, per listing or per-category basis, to fit into your specific ecommerce business needs. And better, quicker listing options mean more products online to sell!
2. Includes Advanced Feed Management Features for Advertising, Site Search & Email Marketing Channels for Better ROAS
It's not just your sales channel listings you need to manage when selling on various channels, but your product feeds to various marketing and site-related channels themselves. Product feeds for platforms such as Facebook, Google PLA, Bing, site search tools like Nextopia, SLI system, email marketing software such as Klaviyo or Bronto and more are vital for any advanced ecommerce business strategy. An advanced ecommerce data management tool streamlines this process by enabling you to create feeds for marketing and advertising channels in any format while allowing you to separate marketing channels and feeds to optimize your advertising ROAS across marketing channels. And as we all know, better ROAS means more sales for your budget! 
---
Bonus Content: How to Optimize Your Google Shopping Ads to Get More Clicks and Sales
---
But that's not all! An advantage of product data management tools like StoreAutomator has will also enable you to create multiple listings for the same inventory for marketing purposes. This means you have the ability to create Alternate and Alias SKUs so that you can market your products differently on the same or separate marketplaces.
3. Offers Progressive Inventory and Order Management to Improve Shopping Experience and Sales 
One of the cornerstones of data management tools for ecommerce is their inventory management automation. This ensures that all inventory product data is automatically updated no matter which marketplace the sale is made on or which location the order is being fulfilled from. However, advanced tools take it a step further by offering multi-warehouse support with its 3PL and shipping management integrations.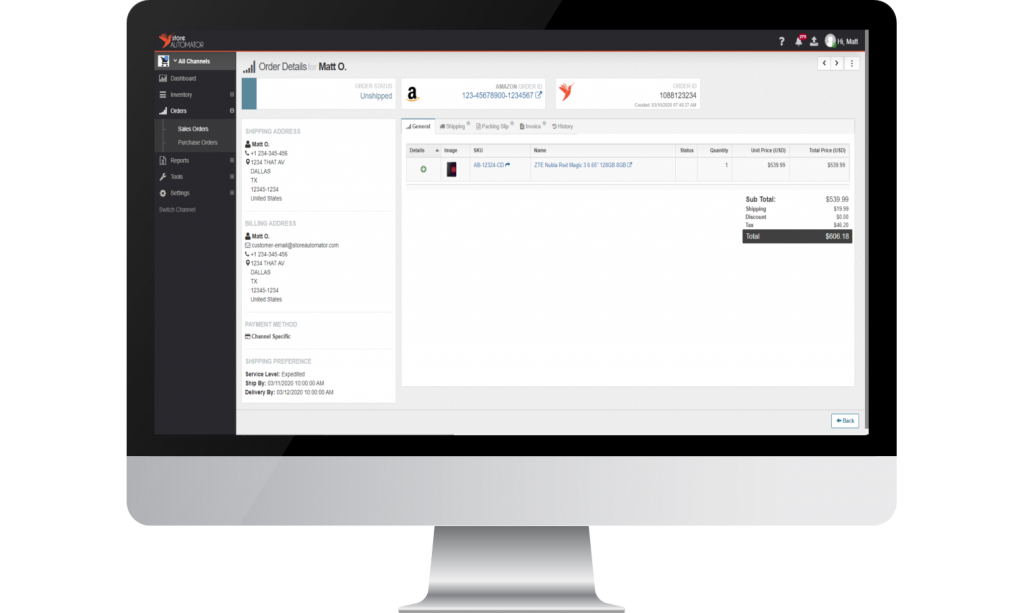 And why is advanced, automated inventory and order management so vital to running an ecommerce business? Because it ensures that your product listings align with available stock at all times, thus ensuring correct availability.
Additionally, inventory data management and integrations with shipping tools allow you to track deliveries from one dashboard, adjust warehouse inventory allocation per channel to ensure your most successful channels have access to more products and include automatic order routing by supplier to get your products stocked quickly and efficiently. All of which help boost sales while also keeping customers happy. Win, win!
4. Enables Flexible Product Data Management to Increase Efficiency, and therefore, Conversions
Product Data management should just stop at listings and inventory coordination. You want a tool that is flexible enough to tailor to your specific product, brand, and market needs, as well as shifting product marketing strategies. Being able to adapt these in real-time means quickly changing with the market when needed to be able to boost sales across all channels efficiently.
An advanced data management tool will not only enable you to create and update all your product data as laid out above but also let you create product bundles, multi-packs and kits for sales and new product launches, directly from your data management software dashboard. Furthermore, extensive data management features such as multiple taxonomies and custom field creation will help you improve SEO and ranking. And as we know, more store and marketplace listing traffic means more sales!
5. Ensures You Can Adjust to Market Changes in Real-Time
As the ecommerce industry grows, so will the number of close competitors and the number of market fluctuations in your niche. Additionally, each marketplace or channel is also constantly evolving, which means you have to be on the constant lookout across all channels and adapt quickly to ensure conversion rates do not drop. This can feel like a full-time job, with many changes falling through the cracks, unless you have a cutting-edge data management tool.
Another important benefit of investing in an advanced data management tool for your growing business is the ability to automate your repricing and competition watching across all your sales channels.  
A good ecommerce data management tool will automatically monitor current conditions in the marketplace, help you create pricing/profitability rules and strategies, analyze all of your items quickly and easily and reprice your products in real-time to keep you selling despite any market changes.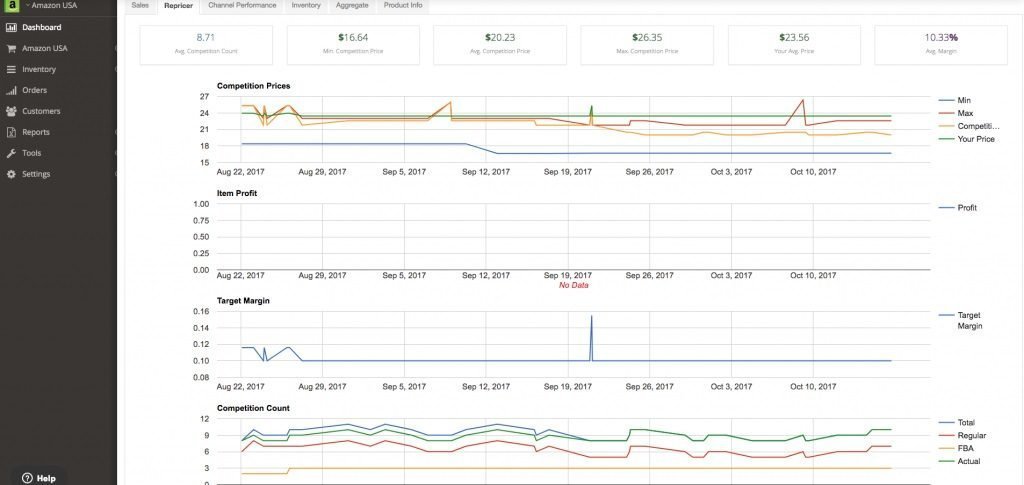 6. Gives You Instant Access to In-Depth Data You Can Use to Adapt Strategies and Boost Sales
Last, but by no means least, ecommerce data management tools will provide you with invaluable data you can use at the product, category, brand, or channel level to optimize your business and increase sales. With access to precise data and reports collected across all your channels, growing multichannel sellers can assess order, revenue, profitability, product/channel, and best-seller product performance from a variety of sources to help push sales-driving strategies.
Conclusion 
As you can see, with the right advanced data management tool, you have a host of streamlining and automation tools at your fingertips. And the main benefits of running a streamlined multichannel-selling business? New sales and better shopping experiences for repeat sales! There is no doubt that if you want to grow your ecommerce business into a mega multichannel brand, you need the right ecommerce tools to get you there, and advanced data management should be your first investment.