If you've decided to increase your marketplace channels and dive into multichannel selling, then where better to start than ecommerce marketplace giant Amazon. But, where to start? Your first step to adding Amazon to your selling channels is to set your sales goals: which products you want to start with, how many sales you would like to reach each month, and which Amazon selling plan you would like to pick.
Amazon has two types of selling plans, professional or individual, and choosing between them should be based on your budget, the number of products you plan to sell, the types of product you are selling and whether or not you are planning to use FBA (Fulfillment by Amazon) service.
Here's Amazon's detailed breakdown of what each selling plan includes and excludes:

Professional sellers have access to over 20 categories including Baby Products (Excluding Apparel), Beauty, Clothing & Accessories, Electronics (Accessories), Jewelry, Grocery & Gourmet Food, and Home & Garden. Here's a full list of Amazon categories: Amazon Selling FAQ.
So what's next? We've put together this express guide to selling on Amazon to ensure you know everything you need to know to get selling on Amazon in no time at all.
Step 1: Know the Basics
Amazon Guidelines
Your first step should be to know all the ins and outs of selling on Amazon and all their seller guidelines to ensure you're compliant and maximize your Amazon SEO from the get-go. These should include:
Amazon Shipping Options
You have two ways to fulfill your Amazon orders as a seller: merchant fulfilling (FBM) or using FBA as mentioned above.
If you already have a well-oiled fulfillment strategy in place, you can opt for merchant fulfilling, but in most cases, sellers find using FBA more effective.
Fulfillment by Amazon involves sending, and 'housing', products to one of Amazon's fulfillment centers, allowing Amazon to ship your orders on your behalf. The big advantage of this is access to Amazon's faster, more efficient shipping and customer services, leaving you to concentrate on marketing.
Here are some more advantages of using FBA, all of which contribute to more sales opportunities:
Access to free Prime shipping and eligible Prime product listings

Higher ranked product listings

Extra trust from potential shippers

Bigger chance of winning the Buy Box
Buy Box
Amazon's Buy Box is the converted one-click ordering box on product listings: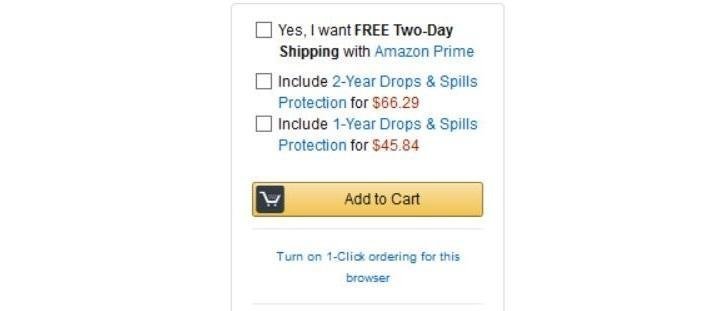 This is available to feature that Amazon rewards its best sellers. Getting the Buy Box is not an easy feat, however, if you begin your Amazon seller journey by following best practices, not only will you put yourself in the running from step one, but increase sales potential along the way. Here are four factors that you will be ranked on:
Positive seller history

Competitive pricing

Number of good seller reviews

How much competition you have in your niche
Here are the Amazon Buy Box guidelines and a video from Amazon expert Millionaire Millennial to get you started.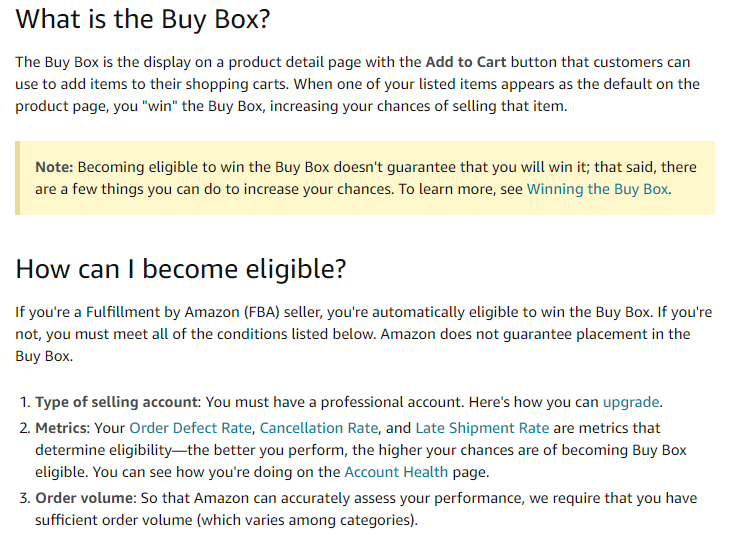 Optimize for Amazon Sales
This may seem premature, but it's one of the most important things you should know before you get started. Why? Because understanding what helps sales will ensure your objectives are on point and in place beforehand. The three most important considerations for brand new Amazon sellers are:
Boost sale numbers by listing popular products for a competitive price

Smooth transactions and fulfillment

Boost sales ranking faster by starting with low-competition products
Step 2: Getting Set Up
Now that you know the basics, it's time to set up your Amazon Seller account. To do this you will either choose individual or professional seller and input account details to get to the Seller Central Dashboard.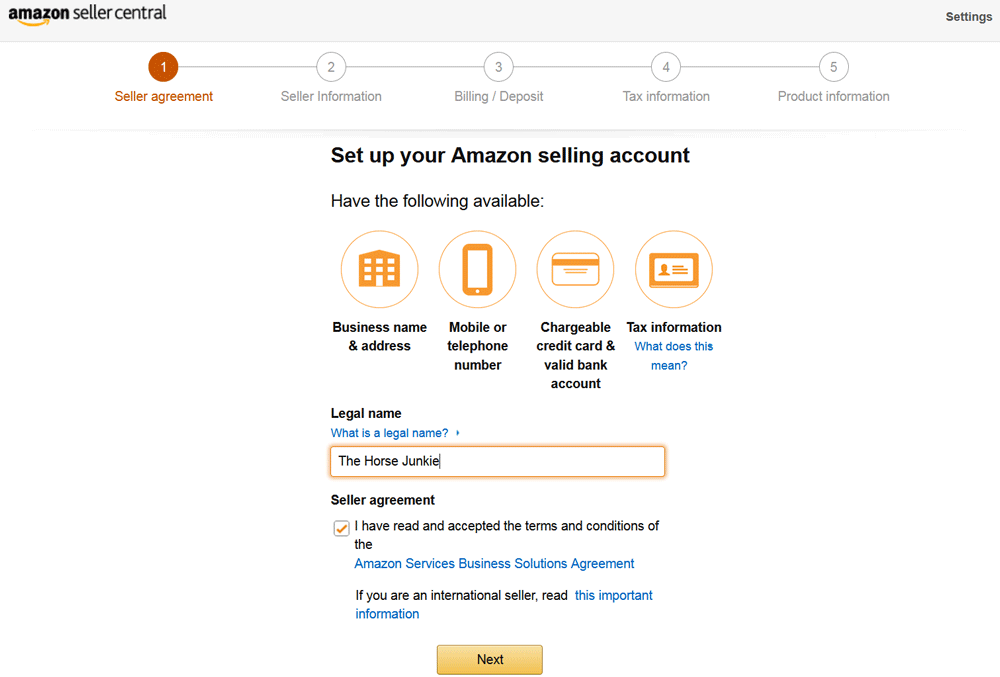 Note: You can always upgrade from an individual to a professional later on.
Know Your Dashboard Settings
Uploading Products
Once your account is set up, you can then upload your products. There are two ways you can do this: manually or by using product feed apps. If you only have a few Amazon listings you will be managing, then manual uploading will be fine. However, if you are a professional seller with multiple products to manage you will want a bulk upload and management solution.
This can be done directly in the dashboard by either uploading your CSV file of product data or by using a full data feed solution like Shopify or StoreAutomator. The former will still require some work on your end as Amazon product guidelines and categories are very specific and will require some editing on your end. If you opt for an automated product management system, this will include dynamic Amazon inventory and pricing solutions, which is a must for a growing multi-selling business.
Pricing Your Amazon Products
The final step before going live is to price your Amazon products. Unlike selling in your own store, marketplaces have more product competition and are therefore more price competitive. Here are some tips to get you started:
If you're an FBA seller you want to look at the competition, sales ranks, and price history.

Consider your fees and costs of selling on Amazon, including customs, shipping, Amazon fees, customer returns, and overhead costs.

Consider dynamic pricing for real-time adjustments.
In a nutshell: you want your products to profitable, but you need to keep up with the competition. The best strategy would be to find your bottom line or floor price and to reprice according to the competition to help you appear on page one of Amazon's organic search.
Step 3: Start Selling
Now you're ready to start selling! The most important considerations that a beginner Amazon seller should concentrate on are fulfillment, inventory, and price management. Here are our top 5 tips for selling on Amazon:
1. Always Follow Amazon Guidelines
This tip is straightforward, but a must: always follow Amazon's guidelines and rules to ensure you build a good reputation and don't get booted off the marketplace!
2. Prioritize Customer Service
If you want to build your seller reputation, prioritize customer satisfaction and service from the get-go. In Amazon terms, this means you deal with disputes quickly and professionally, handle returns well, respond to customer inquiries in a timely way, and put your shoppers' needs first.
3. Keep Product Images Professional
Product images matter, as this is often the first thing customers will compare. Product photos also form part of Amazon's guidelines. Also, keep them fresh, testing, and updating over time until you find the ones that convert. If you don't have professional images ready and want to start on a DIY budget, this video guide is a good place to start.
4. Build Your Product Reviews
Set up automatic emails that request reviews from customers once they have bought from you. Not only does this help you stay in touch and get valuable feedback after the sale, but builds your number of reviews which in turn will build more trust for you as an Amazon seller.
5. Optimize Your Product Details
Product details and information are important in matching your potential buyers to your Amazon listing. That means having the right keywords and ensuring your information is always accurate. This includes product identifiers, titles, descriptions, search terms, etc. Less is definitely not more when it comes to Amazon listings so make sure it's all there and dynamically updated by an advanced Amazon Listing Software. This also means dynamically managing your pricing and inventory in real-time with Product Data Management and Amazon Repricer tools.
—
There you have it, your guide to selling on Amazon. You're now ready to kick some Amazon butt and become an effective multichannel ecommerce business.