If you've been wondering how to sell in Europe with Amazon, you've come to the right place. With its customer reach potential across 26 countries, new sales stream opportunities for sellers, and complete logistical services and tools, Amazon's European marketplaces are fast becoming popular for ecommerce entrepreneurs looking to scale up their business.
The good news is that anyone can sell in one or all of Amazon's European marketplaces. The bad news is that it can be pretty complicated. You must meet local tax requirements and provide product info and customer services in the local language while meeting Amazon's performance level requirements.
Even though it can be an elaborate process for those sellers who haven't dealt with the bureaucracies and guidelines that selling in the EU presents, it also offers a considerable selling opportunity if you're ready to expand to the continent with 340 million shoppers.
To help you navigate the process, we put together this step-by-step guide on how to sell in Europe with Amazon.
Step 1: Decide on a European Marketplace
Amazon has five marketplaces in Europe, including the UK, Germany, France, Spain, and Italy. Although there is the option to use one seller account for all five marketplaces, you will need to decide from the start which marketplace you would like to choose as your 'home' marketplace. This will also help you determine many legal and logistical steps along the way.
To make this decision, you should ask yourself:
Where do you plan on distributing the majority of your products from?

Which country will offer you the best starting point regarding demand and competition?

Which home marketplace will offer the best logistical advantage regarding shipping, tax, and customer service?
To get you started, here's a summary of the main advantages of the two most popular entry markets.
Amazon.co.uk (United Kingdom)

makes a good entry point into European selling, especially for those already selling to English customers or needing English-speaking third-party services like accounting and shipping firms.

Amazon.de (Germany)

is the biggest EU market and has many English speakers. It also has less competition than the UK, and its tax conditions are more favorable.
Pro Tip: Start with one market rather than launching in all five at once. If you're from the US or another English-speaking country, we suggest starting in this marketplace order: UK, Germany, France, Italy, and Spain.
While deciding on your marketplace, you should consider each country's legal and tax implications and the fulfillment options. However, your research work is just beginning once you have narrowed down your home marketplace.
Step 2: Research the Legal Obligations
When selling in the EU, there are a few legal obligations to consider, generally as well for each country. These include:
VAT implications

Customs regulations, laws, and fees

Consumer rights

Commercial invoice obligations

Intellectual property rights

Marketing and labeling laws

Product compliance

Environment, health, and safety requirements
As you can see, there is a lot to consider. Our advice would be to hire a business lawyer specializing in international law and third-party accounting and shipping companies to help you with VAT, registrations, and customs. If you only have a few products you want to start selling in Europe, forking out budgets for the latter may be too steep a task. You can go at it alone in the beginning before you grow, but you need to ensure you've researched each of the listed obligations for the country you've chosen as your home marketplace. Here's a complete list of Amazon Europe Tax and Regulatory Considerations from Amazon to start you off.
Step 3: Research Your Fulfillment Options
Next, you will need to research Amazon Europe's fulfillment options and decide on the right one for you. If you want to expand your selling to Europe, you have two main fulfillment options: FBM and FBA. Here's a summary of each.
1. Amazon Europe FBM Fulfillment
You may be familiar with FBM (Fulfillment by Merchant) from selling in your current Amazon marketplace. The option is also available to you as an Amazon Europe seller. This means that you either ship from your current country or Europe using third-party storage and distribution centers. Each has its disadvantages:
FBM from your current warehouse country is more straightforward, but it is an expensive option, not to mention that it slows down order fulfillment as each product ordered would need to go through customs.

FBM from Europe will save you money and hassle, but it relies on finding reputable third-party distributors in the EU, and you won't be Prime-eligible.
FBA from your current warehouse is ideal if you need to ship minimal quantities and want to test the market, but if you're set on FBA and have a few products, we recommend FBA Europe instead. If you get a good deal from a third-party distribution center in a European country, you could use FBM and save on costs. But it is important to note that doing that would mean that you would not be eligible for Prime, as your products would not be stored in Amazon's warehouse.
2. Amazon Europe FBA Fulfillment
Amazon offers three FBA options in Europe: EFN (European Fulfillment Network), MCI (Multi-Country Inventory), and Pan-European FBA, each of which will have its advantages and disadvantages. Choosing between them will depend on your budget, selling goals, and resulting distribution needs. Here's a summary of each.
EFN (European Fulfillment Network)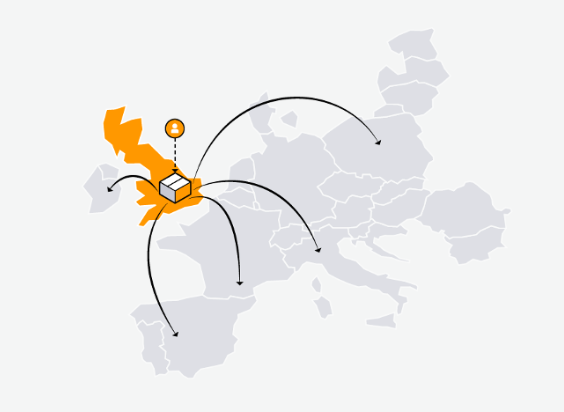 EFN enables you to choose one EU distribution center to ship from, meaning your products will be stored in one of Amazon's fulfillment centers and distributed across Europe. Orders from all five marketplaces will be packed and shipped from this center. Therefore you only have to send products to one country's Amazon fulfillment center and will have Prime eligibility.
MCI (Multi-Country Inventory)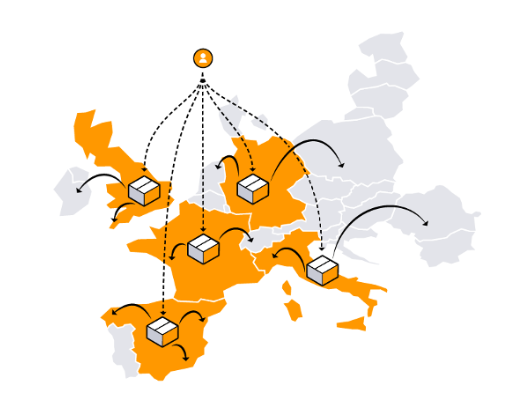 If you want to store your products in multiple countries' distribution centers, then MCI is for you. MCI gives you control over which products you want to be stored and shipped from which country. The significant advantage of this fulfillment option is that you can distribute from areas closer to your customers, providing faster shipping and saving on cross-border EFN fees.
Pan-European FBA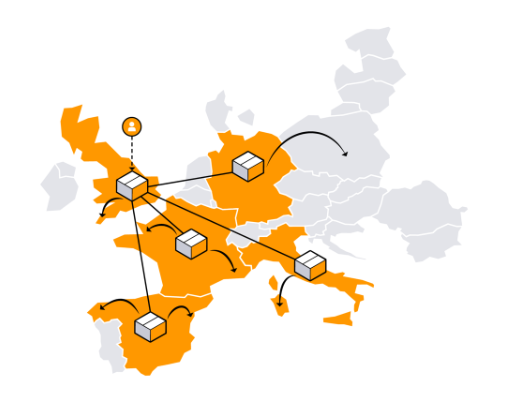 Pan-European FBA offers you the most simple when it comes to fulfillment in the EU and is perfect for those sellers wanting Amazon to handle everything for them. With Pan-European FBA, after sending your products to one of Amazon's distribution centers, Amazon will automatically distribute throughout the EU based on expected demand. This will save you the hassle and money with Amazon helping you avoid cross-border fees. Get started with Pan-European FBA.
Pro Tip: Whether you're shipping yourself or using a third-party shipping company such as First Choice Shipping (who will handle customs clearance and get stock to the Amazon warehouse), you can save costs and time by shipping bulk to FBA instead of paying customs on smaller inventory amounts.
Step 4: Register for EORI and VAT Numbers
Once you have decided on your home marketplace, researched your legal obligations, and decided on your Amazon EU fulfillment strategy, it's time to register for your EORI and VAT numbers. An EORI number is your Economic Operator Registration and Identification, which is applicable for FMA sellers that enable them to import goods into Europe. Unless you plan on having meager profit margins, VAT numbers are suitable for both FBM and FBA sellers to allow you to add the required consumption tax to every product you sell.
If you're planning to start selling in only one country, you must register for VAT in that country from the beginning. However, you may need to register for VAT in multiple EU countries as you expand.
Let's say you're selling in the UK and begin to branch out to other countries; you will need to charge local VAT until you reach the VAT registration threshold for the additional counties you're selling in. Thresholds differ from country to country; for example, for the Netherlands, Luxembourg, and Germany, the VAT threshold is €100,000, while the UK threshold is £70,000, and France only has a threshold of €35,000. If you met the sales threshold in all 27 countries, you would need 27 VAT numbers – one for each country. The VAT percentage and exemptions will differ per country as well.
In short, it can be a highly complex affair, and we recommend that when selling in Europe with Amazon, you hire a European accounting firm to help you manage all of the above.
You also can't afford to mess with your pricing. You should ensure the correct VAT is added to the right products in the country you're selling to, so use apps such as StoreAutomator's multi-channel product data management, which will allow you to add the correct percentages per channel. Additionally, we recommend you consider apps like Payoneer to help you handle VAT payments (and international selling).
This brings us to the next step…
Step 6: Research and Choose Your Payment Options
When selling in Europe with Amazon, you must consider how you will receive payments. You can either use Amazon's payment tools, which will pay you into your home country bank account, or online transfers and payment apps like World First or Payoneer. Payoneer opens Euro bank accounts on your behalf. The former can result in a loss of income from currency exchanges.
The latter will give you more flexibility with accepting payments as it means not having to open a separate bank account in every country you sell in and helping you manage your VAT payments abroad. Here's Amazon's step-by-step guide to setting up Payoneer payments in Seller Central.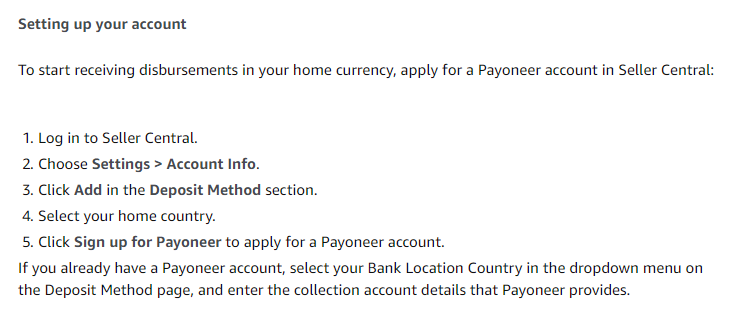 Step 5: Pricing Your Products for Europe
Next, you will need to consider your product prices for the European market, as it will come with a host of additional fees that you will need to consider, including VAT, outbound shipping, customs, and fulfillment (FBA and FBM) fees. A good Amazon Repricer tool will help you adjust your listings per channel to ensure you are not eating into all your profits.
Step 6: Consider Language Barriers
When adding your products to a marketplace, you have to keep in mind that not only do your listings need to be in the language of that country, but your support, reviews, and customer service will need to be, too, if you want to be a real competitor.
This is less of a concern for those who opt for FBA, as Amazon provides 24/7 customer service in the country's home language. If you're choosing FBM, you will need to hire customer support teams or outsource to help supply service in the required language. With regards to product listings, whether you choose FBM or FBA is irrelevant; you will need to get your listings translated.
Important note for sellers from English-speaking countries looking to sell in the UK: Although the UK is English-speaking, spelling and other language nuances will differ. This is less of an issue if you're from South Africa or Canada, but US English speakers will need to consider spelling and colloquialisms. We recommend getting a content guru to help you edit your product descriptions.


Step 7: List Your Products on Amazon Europe
Your final step is to list your products on Amazon EU marketplaces and get cracking. When you're listing products, you can
Either manage channels together – listing your products in one country and then using Amazon features to list your products in all marketplaces and edit

Or you can manage each channel separately and list products per channel but still have Amazon handle all the inventory of each country.
Don't forget to optimize your Amazon product listings for each marketplace!
—
Conclusion
Yes, it can be complicated, and you must do your homework. But if done correctly, selling in Europe with Amazon can scale your business dramatically. We recommend starting in one marketplace and branching out if you are ready to leap. We suggest starting with the UK to lessen the language barrier for US sellers.
Additionally, it's okay to ship yourself when testing the market initially. However, we highly recommend using third-party shipping companies that will handle customs clearance and getting stock to an Amazon warehouse. We have much first-hand experience with First Choice Shipping.
Whichever way you decide to go, do your research and find services that fit your selling needs. As you increase the number of marketplaces and channels, so will the logistics and admin increase. Therefore, if you are branching out, you want to budget for third-party apps and services to ensure you are organized. StoreAutomator's multichannel management includes the following functions and features:
Create and update product listings

Product inclusion control

Update/sync quantities

Product data mapping

Inventory masking

Overriding product data at the channel level

Automatic currency conversion

Create and update products

Manage variant types, options, and custom fields

Build categories with multiple taxonomy support

Automatic SKU creation

Product data update by bulk import/export

Order management

Customized invoices, packing slips, and shipping labels

Order notification emails

Integration with carriers and shipping software

Update status with marketplaces

Amazon FBA integration

3PL integration (custom solution)

Multiple user support

Business intelligence

Dashboard

Overall business overview

Extensive analytics
Click here for a complete list of features and options and a free trial.