If you have reached a plateau in your ecommerce sales, it could be the time to scale up and add another marketplace to your platform portfolio. Expanding to new marketplaces exposes your products to brand new target audiences and will dramatically increase your profits. According to a BigCommerce study, 48% of product searches done online start on marketplaces like eBay and Amazon. It's no surprise when Amazon's share of online shopping, as a whole, is somewhere around 37%.
Add that to the fact that 50% of those Amazon sales in the last quarter of 2017 were sold by third-party sellers; if you're not thinking of expanding to other channels you are losing out on a lot of potential sales.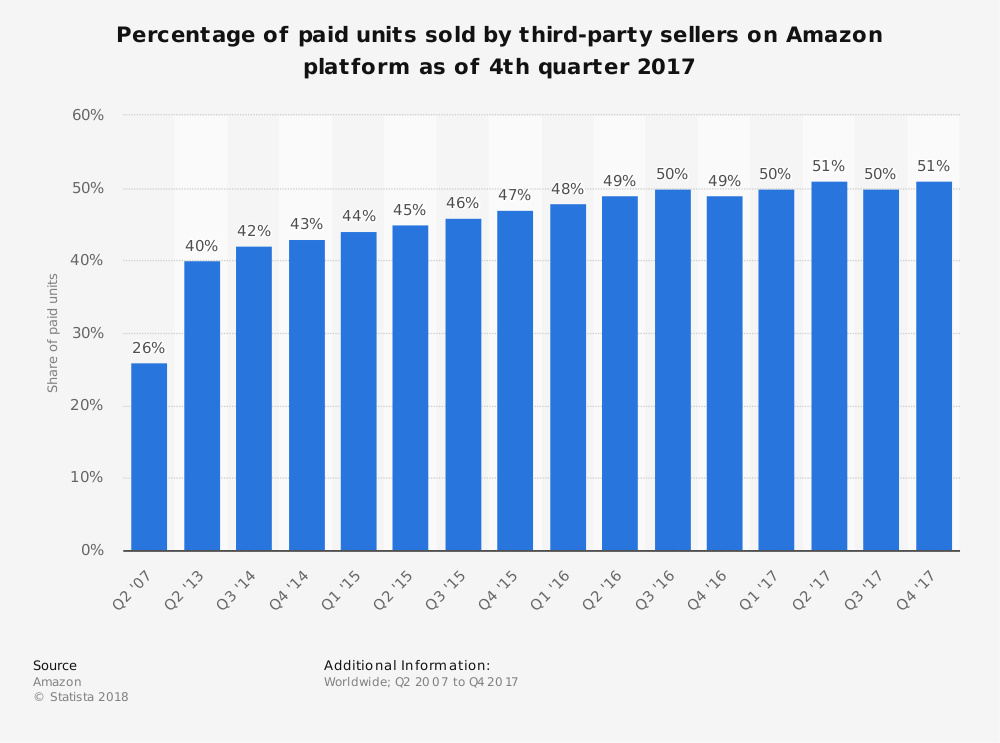 It's not just the amount of active shoppers on marketplaces that profit building, but the instantaneous trust it affords you. Another study by Digital Commerce 360 found that 65% of marketplace shoppers have far more trust for brands they don't know when shopping on a trusted marketplace and will likely buy from sellers they have never heard of.
The online shopping landscape is constantly changing, and there is currently a big push by a lot of brands to spread their selling platform wings as the number of omnichannel and multichannel sellers increase to meet their potential shoppers where they are. Consumers also want to find what they are looking for much faster and will turn to trusted sites when they are in a hurry and to scale up, it's time to branch out.
Sure, like with any business expansion, there are challenges, but if you know how to navigate them you almost guaranteed success and the pros will outweigh any challenges you may face. What are these benefits?
A greater customer reach

More brand recognition

Access to marketplace traffic

Becoming more trustworthy
What do these benefits all add up to? Revenue! In fact, you could be increasing your revenue by 190% by moving from one to two marketplaces according to reports.
So, are you ready to increase profits with multichannel selling? Of course, you are! Here are 4 strategies to help ensure you increase profits with multichannel selling.
Increase Profits By Choosing the Right Marketplace
The first step in increasing your profits is choosing the right marketplaces to start selling on when expanding into multichannel selling. Not all marketplaces are created equal and not all marketplaces may suit your products, brands and ultimately your ideal potential shopper. To choose the right marketplaces you will want to ask yourself these three important questions.
1: Where are your customers shopping?
Put yourself in the mind of your target audience and do your research. Are they shopping on small niche markets or bigger powerhouse marketplaces like Amazon or eBay? Do your research on each marketing place to see what their demographics are – do their shoppers fit into your target audience – before putting money into expanding.
2: What do your customers value?
Another way of getting into the mind of your consumer is to think about their values. If they value super quick service and fast delivery then Amazon marketplaces will be your top contenders. Alternatively, if they just love unique handmade goodies, then Etsy should be on your list.
3: What are my competitors up to?
Take a close look at your leading competitors who have similar targets shoppers to see what marketplaces they are selling in. Look at their marketplace stats, the number of sales, reviews, etc., to get insight into which of their strategies are working.
Increase Profits Prioritizing Channels
One of the sure ways to lose out on profits and make costly mistakes is to jump into the deep end of multichannel selling. Once you have narrowed down your list of best marketplaces, prioritize the one you feel will not only bring in the most sales, but also the cost implications of each.
Each channel will have different setup costs, delivery options and costs, different price competition, and guidelines. Make sure you dig deep into each and then prioritize them in order of the easiest and most cost-effective. Strategically add one marketplace at a time, only increasing once it is generating sales and you have worked out logistical kinks to be running the new channel smoothly and fully evaluated the stats.
Increase Profits By Integrating Inventory
Before you start selling in your chosen marketplace you will want to make sure you are ready to handle and monitor the additional inventory logistics. Unless you have a budget for an army of admin helpers, you will want your inventory to automatically sync across all your channels after each sale and to ensure this, you will need to use multichannel selling platforms such as StoreAutomator.
 Here are some numbers to back it up: it is estimated that $1.75 trillion a year is lost on out-of-stock products.
Good inventory integration and management will ensure you are on top of low stock items and can fix it before you run out completely. It also ensures you don't display out of stock items as in-stock, which is one of the biggest frustrations for online shoppers. Multichannel selling platforms such as StoreAutomator will help you manage all of that by providing inventory changes in real-time, helping you manage re-order levels, and full optimization to prevent human error.
Increase Profits By Optimizing Marketplaces
We know that each marketplace has its own type of shopper demographic and that each platform performs differently. Which is why you can't just cut-and-paste your strategy, content, and descriptions from one platform to the other, as this will negatively affect your multichannel selling profits. You will need to optimize and tweak your headlines, product images, and descriptions for each channel individually. Here are our top marketplace tips for optimizing for more sales:
Optimize your content to ensure all relevant fields and keywords for that specific marketplace are included and that it is in the tone of each marketplace's shopper.

Optimize pricing for each channel to ensure you are not pricing yourself out of the market.
Pro Tip: Use this Amazon Repricing Tool to dynamically adjust prices in real time.
Make sure your fulfillment and customer service is adapted to each channel and is fully within the marketplace's guidelines.

Optimize your product lists for each marketplace to ensure you're reaching the right target shopper with the right products.
—
Any way you look at it, the potential for additional revenue by adding a new selling channel is huge. The trick is to start one channel at a time and automate with the best multichannel management systems to ensure you are automatically adjusting and optimizing inventory and listings in real-time.
Want more tips? Check out our 5 Tips to Build an Effective MultiChannel ecommerce Business post.