If you're looking to take your online business to the next level, it's time to find out why and how you can boost ecommerce sales with Walmart Marketplace.
Over the last couple of years, Walmart Marketplace has worked hard to become more user-friendly, incentivize customers with free shipping on larger orders, and increase its catalog. This hard work has paid off, and it's now the third-largest marketplace in the US.
Since 2016, Walmart Marketplace has acquired a few strategic ecommerce platforms under its umbrella, including Jet.com and Shoebuy.com, increasing their number of sellers to 33k by the end of 2019.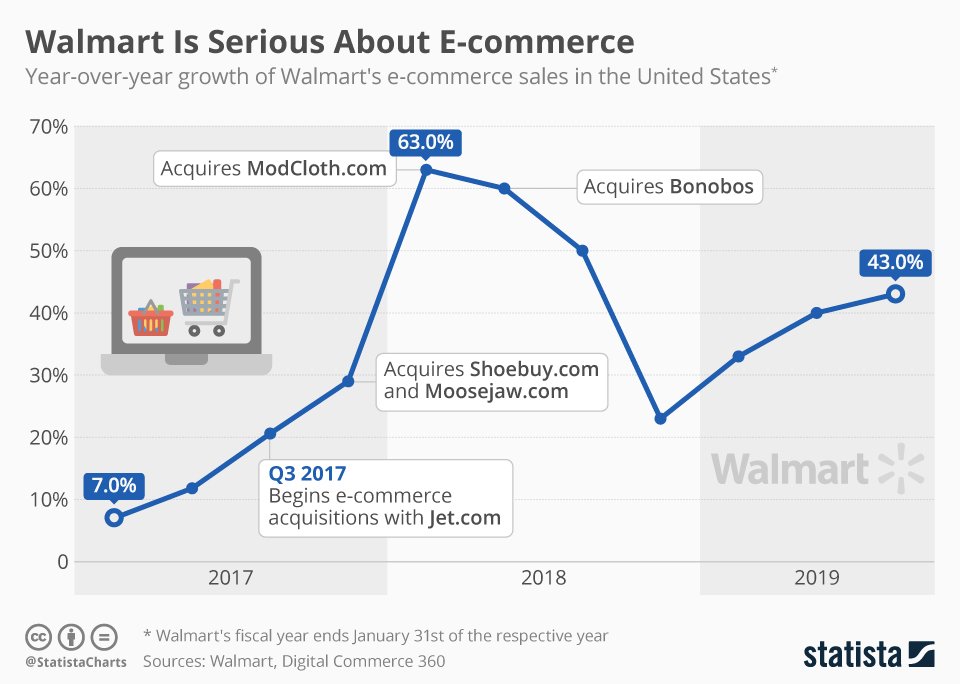 Add that to the fact that they now have 35+ product categories and just over 52 million SKUs; Walmart Marketplace has become a top channel for 7-figure ecommerce brands looking to expand their reach and take their online presence to the next level. 
---
Important note: Walmart Marketplace is not for newbie sellers. To get your business listed on the Walmart Marketplace, you will need to have an established ecommerce brand with a compelling and unique product variety and previous marketplace experience. You will also need to show you have a well-established customer service strategy and can offer fast and reliable fulfillment. If you're new to multichannel selling or are a smaller online store still establishing yourself, we suggest starting with Amazon and eBay. You can read more about choosing the right channel in our post on 5 Hacks to Simplify Multichannel Selling. 
This post will take you through the top benefits of selling on Walmart Marketplace and how you can get your products onto this platform in the best possible way for success. 
Let's jump right in! 
Top 9 Benefits of Selling on Walmart Marketplace 
Before we look at how you can get your products onto Walmart Marketplace, let's look at why you should! Here are the top nine benefits of including Walmart Marketplace in your multichannel selling strategy. 
https://www.youtube.com/embed/_XIQNc672yg
1. Reaching More Potential Shoppers 
Unlike Amazon Prime, Walmart offers customers two-day shipping without requiring a membership. This means many shoppers opt for Walmart over Amazon – users who haven't heard of your product. Launching your ecommerce brand and products on Walmart Marketplace will instantly have access to a whole new set of potential shoppers, increasing your overall reach potential. And as we know, wider reach means better brand awareness, which leads to more eyes on your products and, ultimately, more sales. 
Even if you don't make a sale directly with Walmart, listings will result in more website traffic and brand awareness. The traffic you can later retarget with remarketing strategies on social media, Google Shopping, and other PPC platforms. 
2. Access to a Leading Marketplace With Less Competition  
As marketplaces go, Walmart is a lot more exclusive in terms of which sellers they allow on their site. Yes, this makes it difficult for newer brands to get listed, but this is a massive advantage for more established stores. Why? Because more scrutiny and exclusivity means fewer sellers. Fewer sellers represent less competition for your brand. And less competition means you have a bigger chance of potential customers seeing and buying your products. 

3. Only Pay If You Make A Sale 
Another benefit of selling on Walmart Marketplace is that there aren't any monthly fees for sellers. Instead of listing fees, sellers only pay a referral fee when an actual sale is made. These referral fees will range between 6-15%, depending on what niche you're selling in. This is an essential pro for selling on this channel because testing your products on this marketplace will only incur costs if you make a sale. Here's a breakdown of Walmart Marketplace referral fees: 
| | | |
| --- | --- | --- |
| # | Product Category | Referral Fee Percentage |
| 1. | Apparel & Accessories | 15% |
| 2. | Automotive & Powersports | 12% |
| 3. | Baby | 15% |
| 4. | Beauty | 15% |
| 5. | Books | 15% |
| 6. | Camera & Photo | 8% |
| 7. | Cell Phones | 8% |
| 8. | Consumer Electronics | 8% |
| 9. | Electronics Accessories | 15% |
| 10. | Furniture & Decor | 15% |
| 11. | Gourmet Food | 15% |
| 12. | Grocery | 15% |
| 13. | Health & Personal Care | 15% |
| 14. | Home & Garden | 15% |
| 15. | Jewelry | 20% |
| 16. | Kitchen | 15% |
| 17. | Luggage & Travel Accessories | 15% |
| 18. | Major Appliances | 8% |
| 19. | Music | 15% |
| 20. | Musical Instruments | 12% |
| 21. | Office Products | 15% |
| 22. | Outdoors | 15% |
| 23. | Personal Computers | 6% |
| 24. | Pet Supplies | 15% |
| 25. | Shoes, Handbags & Sunglasses | 15% |
| 26. | Software & Computer Video Games | 15% |
| 27. | Sporting Goods | 15% |
| 28. | Tires & Wheels | 10% |
| 29. | Tools & Home Improvement | 15% |
| 30. | Toys & Games | 15% |
| 31. | Video & DVD | 15% |
| 32. | Video Game Consoles | 8% |
| 33. | Video Games | 15% |
| 34. | Watches | 15% |
| 35. | Everything Else | 15% |
4. 2-Day Shipping Access 
A massive pro for selling on Walmart Marketplace is access to their free 2-Day Shipping policy. Walmart's 2-Day Shipping is their answer to Amazon Prime, enabling faster shipping without the need for subscriptions. Why is this so beneficial for sellers? It helps motivate interested shoppers to push that checkout button and make the purchase. 

---
Note: To qualify your products for Walmart's 2-Day Shipping, you will need to show that your brand offers on-time shipping and delivery, tracking rates higher than 95% of the time and that you have a cancellation rate of less than 2%. Additionally, you will need to have a robust customer support system and make at least 100 orders per 30 days. 
---
Being included in Walmart's 2-Day Shipping category will ensure better search ranking and be included in more filtered searches. You will also speed up the buying experience and increase your conversion changes. It's a win-win! 
5. Quick and Easy Checkout 
Overall, Walmart's checkout process is super quick and easy. Add that to the fact that Walmart is continuously investing in new technology, and you can be sure buyers on the marketplace have a smooth shopping experience. A good checkout process is vital to limiting cart abandonment and improving your sales chances. Walmart is also seen as a trustworthy brand, meaning potential shoppers on this marketplace will feel more comfortable sharing their card information, as there is inherent trust in the brand. 
6. Instant Access to Analytics and Other Full-Service Tools 
Another key benefit for ecommerce brands adding Walmart Marketplace to their selling channels is the built-in tools. These include analytics tools you can use to monitor your product listings and shopping behavior – providing valuable data you can use in Walmart Marketplace and other marketing strategies. But that's not all! With Walmart Marketplace, you also get other unique tools, such as their Specialty listing tool, designed to help you streamline your product listings and inventory management – which seamlessly works with multichannel management tools like StoreAutomator.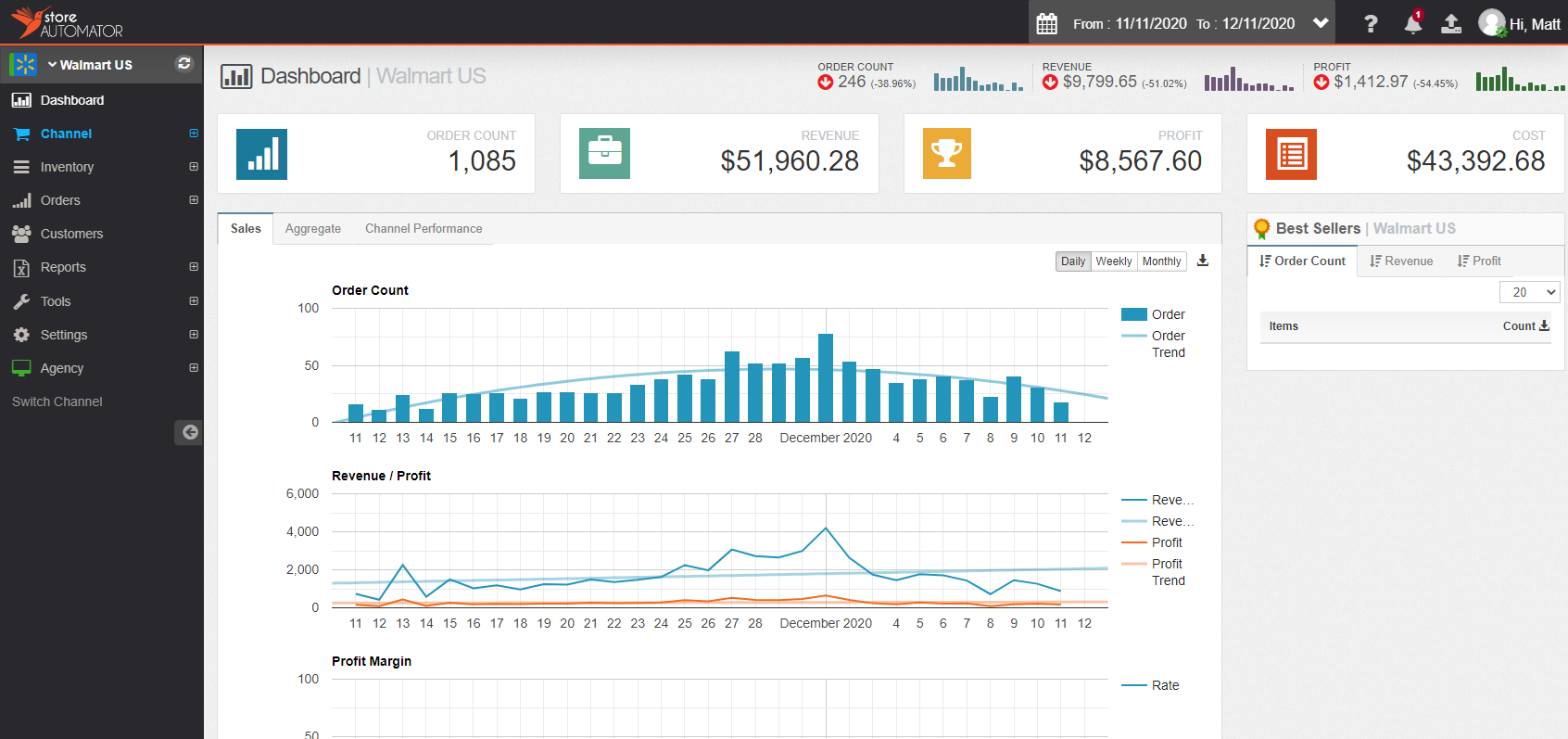 7. Enhanced Brand Authority and Trust 
We touched on this briefly earlier, but it's super important and deserves more detail. Building trust is vital when reaching out to new markets of potential shoppers. By hitching yourself to a trustworthy, well-known brand such as Walmart, you are immediately positioning yourself as well-established and an authority in your niche among new shoppers – which, as we know, is vital to converting them. 
8. Access to Walmart's Fulfillment Partners and PPC Campaigns 
Another benefit of Walmart Marketplace is that when you sell on this platform, you will get access to their fulfillment partner, Deliverr, and their sponsored ads, Deliverr, and their sponsored ads called Performance Ads. Think of Deliverr as Walmart's version of FBA, helping you streamline your product fulfillment when selling online and through Walmart. On the other hand, performance ads work similarly to Amazon Ads, helping you highlight best-selling products front-and-center.  
9. Sell More Products, Make More Sales 
Last but not least, let's look at the most significant benefit of selling on Walmart of them all. By including Walmart in your list of sales channels, you will increase your conversion chances in a big way. All the above benefits will result in better brand awareness, wider reach, easier checkout, faster delivery, and better product exposure. All of which leads to one thing: more sales opportunities. Add that to the fact that you only pay for listings when you make a sale, and it seems like a no-brainer to widen your ecommerce brand with Walmart listings. 
So, now that you know why you should be selling on Walmart Marketplace let's look at the how! 
How to Sell On Walmart Marketplace in 3 Steps 

Step 1: Sign Up 
The first thing you need to do is get approval to sell products on Walmart Marketplace. To get started, you will need to have a US Business Tax ID; W9 or W8, and an EIN verification letter from the Department of Treasury that verifies your US business address or place of physical operations; a US business address; a planned integration method for your product catalog (such as StoreAutomator); and primary product categories, catalog size, and related information. 
Step 2: Sign Retailer Agreement 
Once approved – which should take two to three weeks – you will receive an Invitation to Sign Up letter. Here, you will need to sign the Walmart Marketplace Retailer Agreement. This will formally outline the roles and responsibilities of the marketplace and you, the seller. 
Step 3: Set Up Walmart Marketplace Profile 
Once approved and signed the agreement, you will register on Walmart's Seller Center and integrate your items and fulfillment. In other words, create your brand profile and list your products. Once listings have been approved, you're well on boosting sales with this marketplace. Here's Walmart's guide to SEO Best Practices for product listings to get you started! 
—
There you have it: the benefits of selling on Walmart and how you can get started. As we stated at the start, this can be a highly lucrative market for boosting sales, but only if you're a well-established store. You will also need to ensure you don't try to cut and paste other marketplace strategies for Walmart. Instead, you will need to develop a selling and marketing strategy specifically for this marketplace, based on their analytics and customer behavior. 
Ready to smoothly integrate Walmart Marketplace into your selling channels? We're standing by to help! GET FREE DEMO