Since launching in 2015, Amazon Business has made waves in the B2B ecommerce business sphere. Enabling B2B sellers to implement multichannel selling opportunities on the biggest ecommerce platform, Amazon Business offers an exclusive platform for selling business products.
When you consider that in its first year this platform generated $1 billion in sales and that by July of last year Amazon Business had over a million customers, you can see the B2B ecommerce business growth potential.
Amazon Business is ideal for any seller – from big manufacturers and wholesalers to small business sellers – and is designed specifically to facilitate B2B selling. With features such as business-only savings, multi-user accounts, and special delivery options, it gives sellers access to Amazon's expertise, fulfillment network, customer reach, and ecommerce savviness to grow their B2B ecommerce business.
So, how to grow your B2B ecommerce business with Amazon Business?
In this week's post, we will take you through the pros and cons of selling with Amazon Business, how you can strike a balance between your B2B site and Amazon for the perfect B2B multichannel strategy and what you need to get started.
4 Top Benefits of Selling on Amazon Business
Here are the top reasons why you should be selling on Amazon Business.
1. Minimal Infrastructure Needed to Sell
If you are new to B2B selling and want to test products without a headache, time and expense of building your own infrastructure (fulfillment channels, initial customer base, website, and streams), Amazon Business gives you an almost instant infrastructure.
This gives new B2B ecommerce businesses a platform which is fully equipped to allow them to start selling in a matter of hours after opening their account.
2. Larger Customer Reach
Did you know that 49% of online shoppers begin their product search on Amazon?
By selling on Amazon Business, B2B vendors open themselves up to a much bigger customer base, increased brand visibility and customer reach. Because of this reach, you can increase ecommerce profits dramatically with multichannel selling, and B2B ecommerce is no different.
3. Established B2B Fulfillment Infrastructure
Amazon Business includes access to fully outsourced fulfillment infrastructure and services (Fulfillment by Amazon) such as shipping, warehouse, return management and customer service, as well as general platform infrastructure that includes multi-user support, payment options, and account management. All designed to help you sell and service your B2B customers with ease.
4. Increased Customer Trust and Brand Credibility
Brand trust is a huge part of converting new customers. By selling on Amazon, which is renowned by customers as a reputable, trustworthy platform, it is easier for new vendors as well as established stores wanting to launch new products to gain the trust of new customers.
The Cons of Selling on Amazon Business
There are certain drawbacks to selling on Amazon Business. These include:
Limited brand development due to certain Amazon Business restrictions that can make you blend into the crowd.

FBA

(Fulfillment by Amazon) fees can cost you up to $5

per product (over 2 lbs) – and that's without using expedited shipping.

High marketplace competition that can seem overcrowded and if you're not on top of

Amazon repricing

, you can get lost in the crowd.

Although you have great access, you don't 'own' the customers you are reaching on Amazon or have access to valuable data such as email addresses.
However, it is not all doom and gloom. All of these Amazon Business cons can be counteracted with a converting multichannel selling strategy which we will discuss in the next section.
B2B Site and Amazon Business Multichannel Strategy
By integrating Amazon Business with your ecommerce site, B2B ecommerce businesses can combine branding with a bigger seller pool, making sure you grow revenue by covering all your bases. There is no denying the conversion benefits of multichannel selling, however, deciding on what percentage of your business effort you will put into each channel is up to your unique business.
Why? Because there is no one-size-fits-all strategy. Each business is unique and you need to test what works for your products, brand and target audience. Having said that, there are some universal truths about building a B2B business using an integrated Amazon Business and your ecommerce site that can help you eliminate those Amazon Business drawbacks. Truths such as: having Amazon Business and a B2B ecommerce site will give you more visibility, which will increase sales, and that Amazon Business enables you to sell immediately while building your brand off the platform on your own site saving big budget outlays in the short term.  
Key Amazon Business Buyer and Seller Features to Help Grow Your B2B ecommerce Business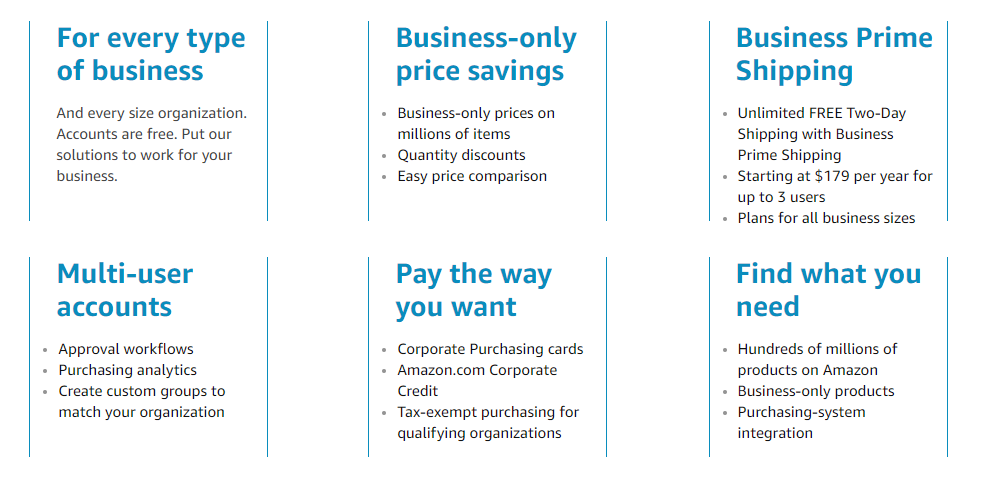 1. Tracking and Reporting Features
Using powerful analytics, Amazon Business gives Amazon B2B sellers and merchants access to personalized reports and data to track buying data. If you are selling on more channels than Amazon Business, then check out StoreAutomator's report analytics and integration for multichannel businesses.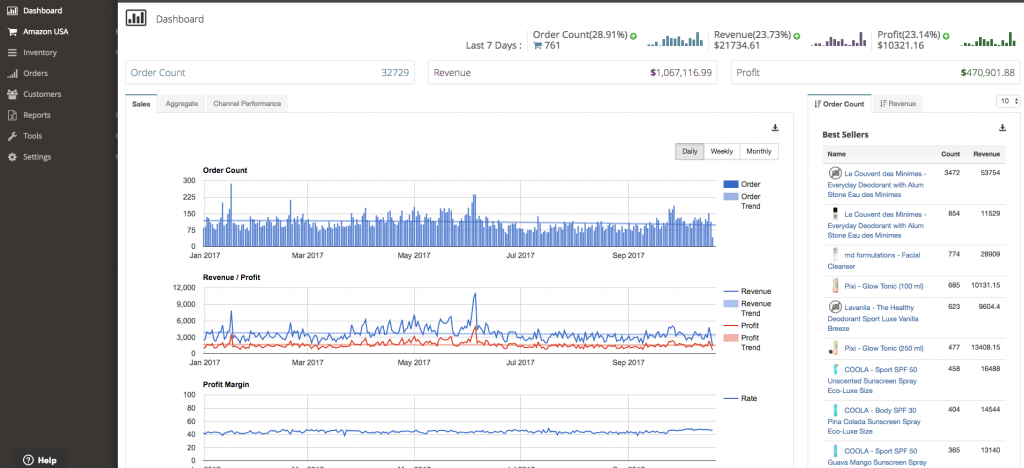 2. Amazon's Electronic Invoicing
Amazon Business provides business customers (if preferred) with a single electronic invoice for a purchase, regardless of how many sellers the products are purchased from. The simple flow is as follows:
                            Amazon invoices the buyer → Amazon collects payment from the buyer → Amazon distributes payments to relevant sellers.
The is an impressive feature for your business customers as it simplifies the accounting process.
3. Amazon's Order Approval Management
Amazon's order approval workflow is explicitly designed for B2B sellers and they have spent a lot of resources on perfecting the process of routing order approvals within the platform.  
4. Multiple Buyers from One Account
Another key Amazon Business feature includes the ability for the account admin to allocate and delegate specific account access, such as purchasing, to specific users, groups or departments who handle those tasks. Simply put, buyers can assign people to one account to order, while putting spending limits, etc., that when occur will be routed back to the admin to approve.
5. Access to Prime Shipping
B2B buyers are able to sign up for Prime Shipping perks, which means they have access to faster delivery options. Amazon's Business Prime program gives you negotiating power over shippers and enables you to offer quicker delivery times at the best rates.
6. Personalized Discounts and Pricing
Last but not least, Amazon Business's personalized discounts and pricing allow buyers to request a quote from Amazon Business sellers, which helps sellers build a more customized price plan and product catalog for each of their Amazon business customers.
—
Convinced? Great! Here's a quick guide to setting up an Amazon Business account to get you started. And don't forget that with StoreAutomator's multichannel product management you can easily integrate a multichannel B2B ecommerce business strategy to drive more sales!  
How to Set Up Your Amazon Business Account
Step 1: Create your free Amazon Business account.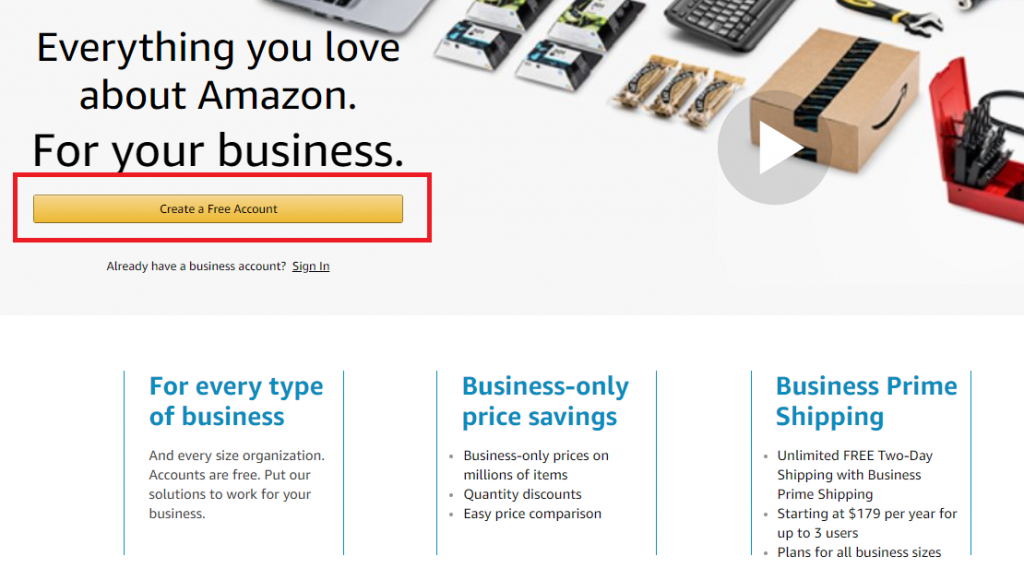 Step 2: Add users.

Step 3: Enable tax-exempt status when purchasing.
Step 4: Save favorite suppliers and set up workflows.
Step 5: Connect your Amazon Business account to purchasing systems. Here's a video guide from Amazon to get you started: https://www.amazon.com/b2b/info/purchasing-system.