Simply put, Google Shopping Actions is Google's answer to making a dent in Amazon's mega status. Yes, Google has been providing recommendations for shopping for years through its Google Shopping, but now you're able, like Amazon, to buy directly from these recommendations.
You only have to look at last year's total retail market share in the US to see why Google is looking for ways to help retailers take on Amazon; of course, earning its share along the way.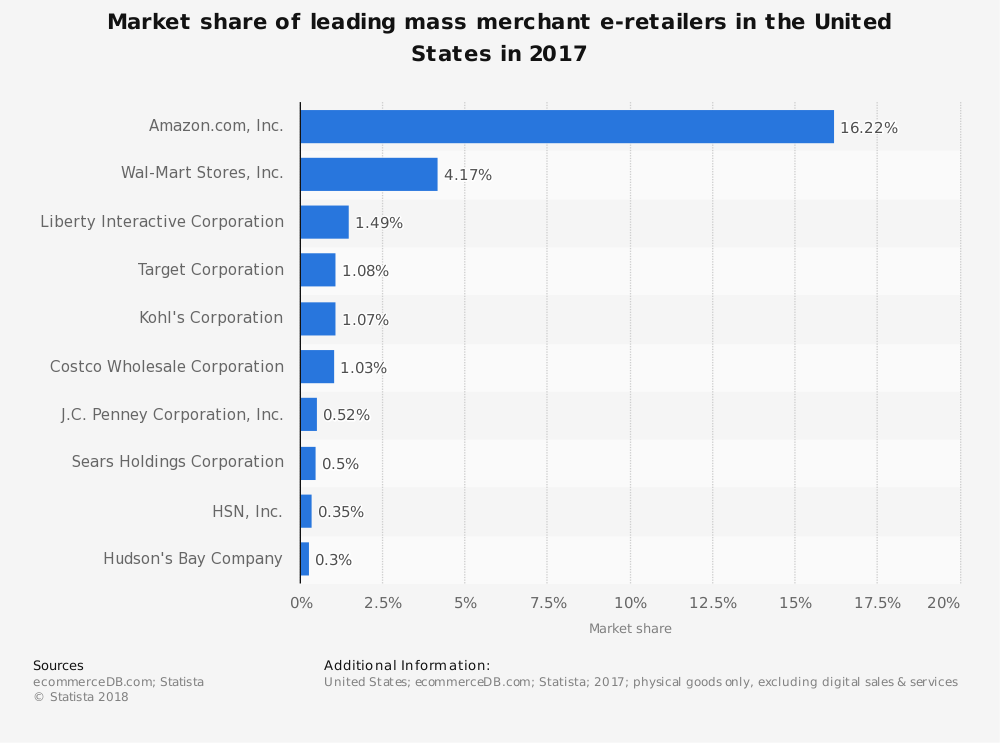 Top retailers including Ulta, Home Depot, and Costco are already working with Google, and both Walmart and Target have also already partnered up with Google's voice-based shopping, which integrates into Google Assistant and Express. Google reported that joining retail partners saw their customers' shopping baskets grow by 30% on average since joining the program, with Target reporting a 20% increase and Ulta seeing a 35% increase in average order values. This is what Target's Chief Information and Digital Officer had to say about Shopping Actions:
"Our guests love the ease and convenience of making their Target run without lifting a finger, by using voice interface."
Google's new program will provide universal checkout across devices (mobile, desktop and voice-powered) with two main benefits: enabling retailers to sell their products through Google Search and creating a much better shopping experience for online shoppers. If you are not thinking, What a big deal! yet, then think about this: one-click reordering and personalized recommendation support.
And now that the new marketplace is live, open to any retailer in the US, and set to replace Google's first mobile shopping program, Purchases on Google, it's time to get out ahead!
Here's everything you need to know about Google Shopping Actions.
Shopping Actions Explained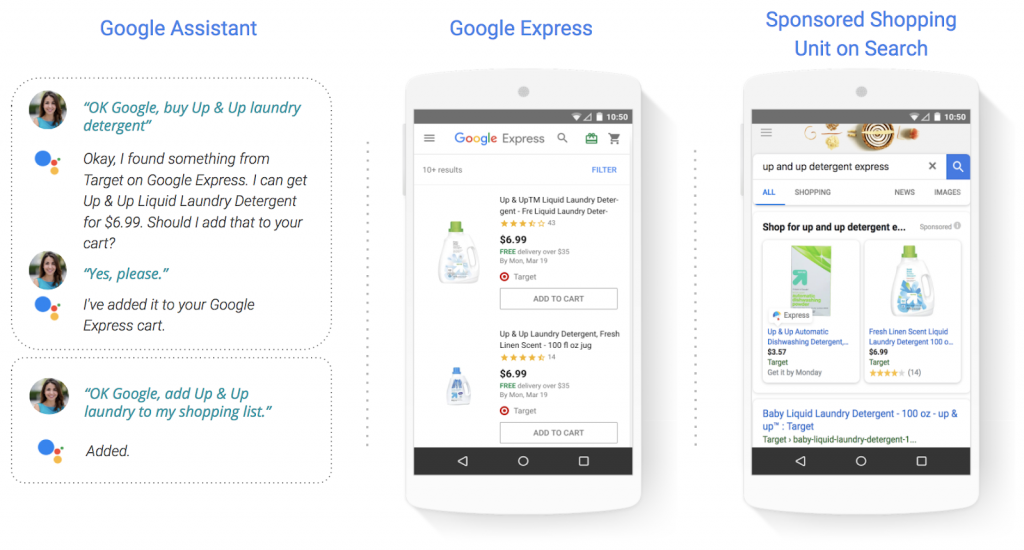 Making shopping frictionless, Shopping Actions will ensure customers can switch seamlessly from browsing to buying, through Google Search, Google Express, and Google Assistant (which means access to Google Home) sites and apps. But it is the way Google will be integrating top SERP shopping results with shopping actions that is super exciting for customers because the gap between search and shop got that much smaller.
Still asking yourself what is the difference?
Amazon vs. Google Express vs. Google Shopping
When it comes to availability, Amazon is still king. However, although Google Express is currently only available in the US, their sites are worldwide competition and – with Shopping Actions – are enabling sales to be completed within its marketplace for the first time.
But by far the most exciting competitive drawcard here is that Express includes voice-shopping options, therefore offering consumers an alternative voice service to Amazon. Another difference between Express and Amazon is that Google Express doesn't request long-term commitments or membership fees. Here's a further breakdown comparison of these three platforms:
Shopping Actions Eligibility
American merchants who sell in the following niches are eligible for Shopping Action application: groceries, household supplies, hardware, basic apparel, health & beauty, toddler & baby, toys, school & office supplies, basic electronics, sporting goods, pet supplies, and kitchen & bath. Sellers fill in this application form, where they will have to ensure they pass many data quality, trust and safety tests before being included in the Shopping Actions program.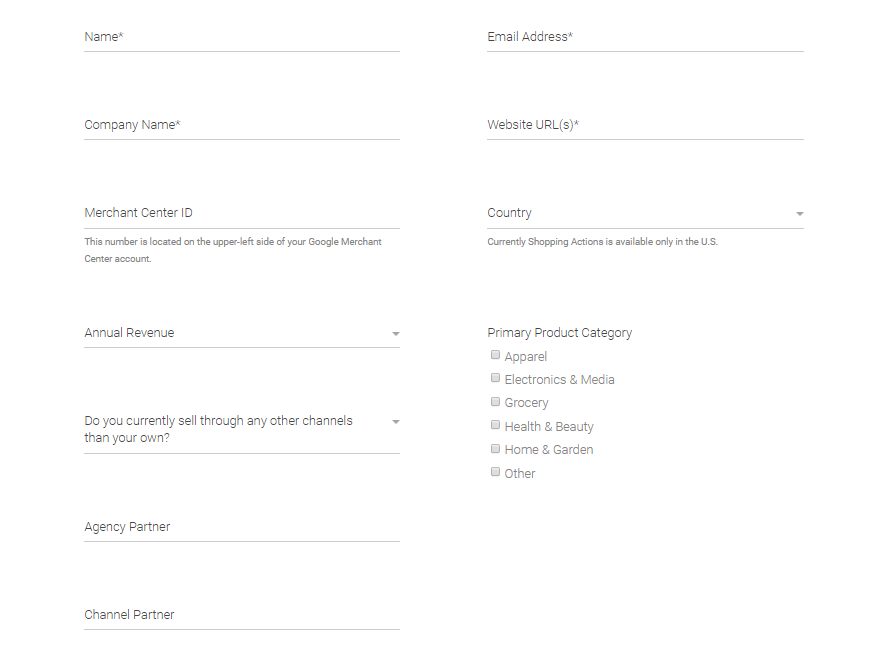 Shopping Actions Benefits
According to Google's official announcement, sellers who are included in their Shopping Actions program will be able to:
Extend product reach to new platforms and apps, enabling them to leverage Google's AI, natural language, and machine learning investments to provide voice-driven, hands-free customer service. This is particularly important in gaining market share over Amazon's Echo.

Ensure their shoppers' experience is effortless, with instant checkout and universal shopping carts. With saved payment details across Assistant and Google, their buyers can move between browsing, and all of Google's apps and to check out, seamlessly.

Create optimum value, which will help online brands build loyalty and engagement. Features such as basket-building, one-click reordering, and personalized recommendations have been designed to help turn one-time shoppers into loyal customers.
The Bottom Line
Google and Amazon competition is actually healthy for consumers and merchants alike, and we are excited to see how Google Shopping Actions and Express trends progress in the race. I have been saying it since last year: voice search will change the commerce market landscape and increase shoppers' expectations of almost instantaneous service and buying power. Google Shopping Actions is yet another drive in that direction, and sellers who aren't worried about how they can speed up service while keeping customer service top-notch are going to fall very behind the trends.
Just look at the stats: Ulta is already seeing a 35% increase in order values since 2016, with CEO of Ulta Beauty, Mary Dillon, quoted as saying, "When our guests buy through Shopping Actions, they can enjoy the immediate gratification they experience in-store and are coming to expect online. They also spend more with us and enjoy other benefits of being an Ulta Beauty shopper, like earning loyalty points through our award-winning Ultimate Rewards program."Get started with Shopping Actions by filling out their interest form and stay tuned to our blog for updates on when Shopping Actions will be launched outside of the US.