What's the future for third-party sellers on Amazon?
In 2000, when Amazon opened its Marketplace to third-party sellers, it changed how neighborhood shops do business. Little mom-and-pop shops could suddenly open their doors to the world market. But no cameras or security guards watch for thieves when your storefront is on the World Wide Web Main Street.
In May, CNBC.com reported on a Facebook group, now consisting of over 600 people, whose members have seen their designs for t-shirts, coffee mugs, and iPhone cases show up on Amazon at a fraction of the originals. The designers described it as a game of whack-a-mole, where fakes pop up more quickly than they're taken down. Plus, the fakes are sold for less, making it impossible for legitimate sellers to market their products successfully.
When sellers undercut a brand's price point, the brand's value decreases. Those big brands like Michael Kors or Birkenstock end up competing with themselves. Amazon's customers, they'll always opt for the cheaper price point. Many of those more affordable items can turn out to be fake; in some cases, they may have been stolen. Again from CNBC, "Because of the FBA network or fulfillment by Amazon, fake items and legitimate items can end up being comingled."
With customers, brands, and third-party sellers pushing back on the issue, Amazon released its new policy just in time for the fourth quarter.
The Fourth Quarter officially starts Oct. 1 and is the time of year Amazon makes the most sales. It's also when Amazon draws the newest buyers, and the company needs to ensure those buyers have the best experience possible on its platform.
According to The Selling Family, Amazon's new policy addresses the main problems:
items are easily stolen from retail stores
the brand doesn't want the perceived value to be decreased
the brand is sold exclusively elsewhere [Amazon isn't hawkish enough to monitor all products sold in its Marketplace
the items are counterfeited
The Policy and How it Affects Sellers
The policy forces third-party sellers to do the following:
a seller must provide invoices from the manufacturers,
a letter stating that they are an authorized seller,
and pay a fee ( for every item that is on the list of brand restrictions)
So, if you're a seller, to sell particular items through Amazon, you will need to work directly with the manufacturer.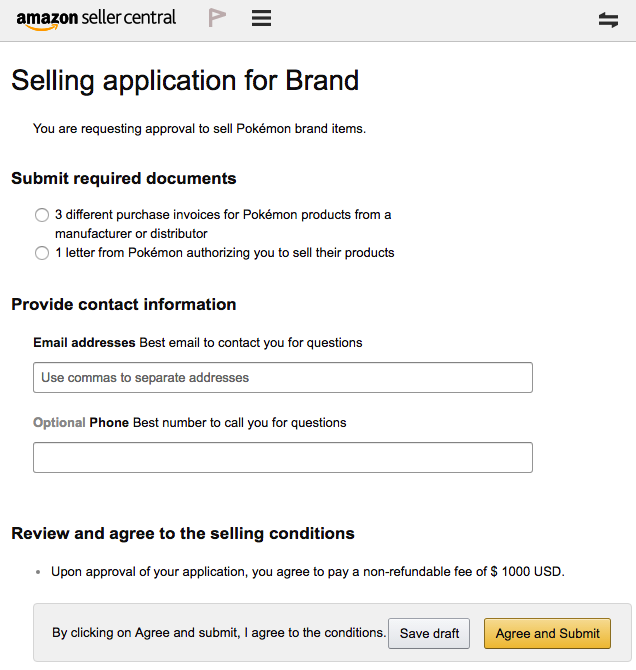 Here's the list of restricted brands.
But what if a seller has inventory from a restricted brand because they bought items before the policy was implemented? Will they pay the fee?
According to Amazon, "If a seller is already selling brands on Amazon that are now subject to a fee, they are not required to pay the fee to continue selling those brands. The fee only applies to new sellers of particular brands. Sellers can see whether a product requires a fee to sell when they search for that product using the "Add a Product" tool on Seller Central."
Will the policy fix the problem?
According to a CNBC report, "Some form of the word counterfeit shows up 30 times in Alibaba's latest annual report, and founder Jack Ma said in a speech last month in Hangzhou, China, that the fakes are of "better quality, better prices than the real products, the real names."
It seems that counterfeits are here to stay. Even with patents to protect the design, manufacturers change the design and sell an item with the same function at a lower price. Since Amazon has also worked closely with Chinese manufacturers this year, sellers are skeptical that Amazon has their back.
"Sales from Chinese-based sellers more than doubled in 2015 on Amazon's marketplaces, while the company's total revenue increased 20 percent. And recently, Amazon even registered with the Federal Maritime Commission to provide ocean freight, simplifying the process for Chinese companies to ship goods directly to Amazon fulfillment centers, cutting out costs and inefficiencies." (From CNBC)
Sellers have mixed reviews. Some acknowledge that the new policy may thin out the hobby sellers so that the more significantly competitive sellers gain an edge. It should make it more difficult for counterfeits and stolen goods to come with legitimate items. Other vendors are wary of Amazon's motivations. Amazon itself can lower its prices on particular items so that they directly compete with third-party sellers.
From the Guardian:
"Amazon has the advantage of many interesting and powerful data, such as customers' email addresses and pre-purchase browsing history. The data is not available to its Marketplace sellers."
There is no guarantee they won't take advantage; in some cases, they probably have. They can sell on their account and see what is selling and not, putting [Amazon] in a powerful position.
How do third-party sellers go forward?
The new policy should affect shady sellers who aren't interested in paying fees and working directly with manufacturers. Stolen goods in the Marketplace should also decrease. According to Amazon, third-party sellers have been given the pathway to be legitimate competitors in the Amazon Marketplace.
The bottom line is the sellers who are willing to adapt and clear those hurdles Amazon placed in front of us are the ones who will succeed. Amazon changes constantly, and we need to change along with them.
Amazon purports that selling goods in a worldwide marketplace creates jobs and opportunities. It gives customers access to the best products for the best prices, as consumers are told. Amazon would like us to believe it's a capitalistic utopia, a utopia that includes competing with Amazon itself. But in a big store, won't the common thief be able to adapt as well?
The Main Street location on Amazon comes with a price. Sellers are left to wonder if Amazon will continue to gauge the rent.