Last year, Cyber Monday topped Amazon's best days to become Amazon's biggest shopping day ever. It has since been toppled by July 2018 Prime Day, but it is estimated that Black Friday Cyber Monday 2018 will be even bigger. To capitalize on all those potential customers, it's vital that you are ready to cash in on millions of shoppers.
If you haven't started implementing your 2018 Amazon Black Friday Cyber Monday (BFCM) strategies, you're racing against the clock to ensure you can compete on the busiest shopping day of the year. We have put together these 9 tips that you can implement today to ensure you increase your Amazon sales for Black Friday Cyber Monday 2018.
Let's get to it!
1. Don't Wait for November; Start Today
Now's the time to get ready for Black Friday Cyber Monday 2018. If you wait for November to plan your product promotions, marketing strategies and to get your listings in order, you could miss out on sales.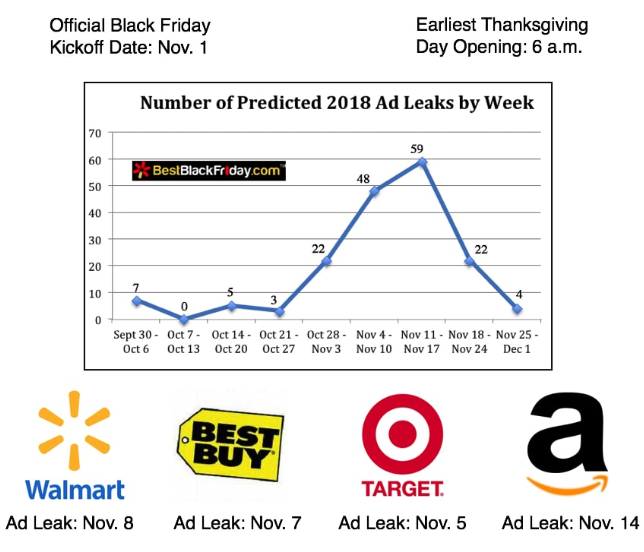 Image Source: Black Friday 2018 Predictions
Not only are brands releasing deals earlier each year, but shoppers are getting more organized with many are already researching their top brand choices, to be ready – and informed – for BFCM. When it comes to preparing for Black Friday Cyber Monday ecommerce sellers, it's already crunch time.
2. Research Trending and Popular Products in Your Niche
There is still time to plan this year's Amazon Black Friday Cyber Monday promotions and add new products to your inventory. To decide on your promotional products, not only should you be looking at your seller metrics to find your most popular products, but also research products trending in your niche.
But how to find trending products to sell online? Here are StoreYa's 3 steps to get you started:
Step 1: Do Your Research
Research Reddit, Pinterest, Facebook and Instagram for popular product content

Check other consumer marketplaces such as AliExpress, eBay, Etsy and of course Amazon

Sign up for review publications to stay on top of trending products
Step 2: Verify Trending Products
Make a list of top products in your niche from the research you've done above

Drill down your list by using

Google's Trends Tool
Step 3: Narrow Down Your List
Is the product easy to ship?

Do you have enough storage space?

Is it marketable?
3. Manage Inventory Like a Pro & Stock Up
Nothing kills sales faster than running out of popular products on Black Friday Cyber Monday! Once you know what you plan on promoting, you should estimate your sales to ensure you have enough stock. It's not just BFCM you need to consider, but also other peak online shopping days such as December 15th. Now is the time to estimate your needs and stock up.
If you're using FBA, you want to keep a close eye on your inventory levels before and during those peak holidays. Remember – you don't have to send all your inventory to FBS; you can always fill it up as the holiday shopping season continues.
For those of you who are dropshipping, make sure you contact all your suppliers, giving them ample notice about your predictions for order increases.
4. Do a Performance Metric Audit
October is the perfect time to look at your performance metrics and do some cleaning up. If you have products that have a higher level of negative feedback than others, pull those products before the holiday season to keep your return and feedback rates on par to try to win those Buy Boxes. This is also a good time to optimize your product listings and take these steps to improve your Amazon SEO:
Review your competitors

Audit and clean up your categories

Stock up on good (genuine) reviews

Optimizing for the right keywords

Invest in Amazon's Sponsored Product ads
5. Invest In an Amazon Repricing Tool
To compete this Black Friday Cyber Monday, you need to keep a close eye on your product prices and adjust them in real-time. People are looking for deals and if your closest competitors are selling products at 15% less than you are, you can forget it. If you haven't invested in an Amazon Repricer Tool, we highly recommend investing in one before the holiday season starts. This will help you:
Monitor current conditions in the marketplace

Create pricing/profitability rules and strategies

Analyze all of your items quickly and easily

Reprice your products in real-time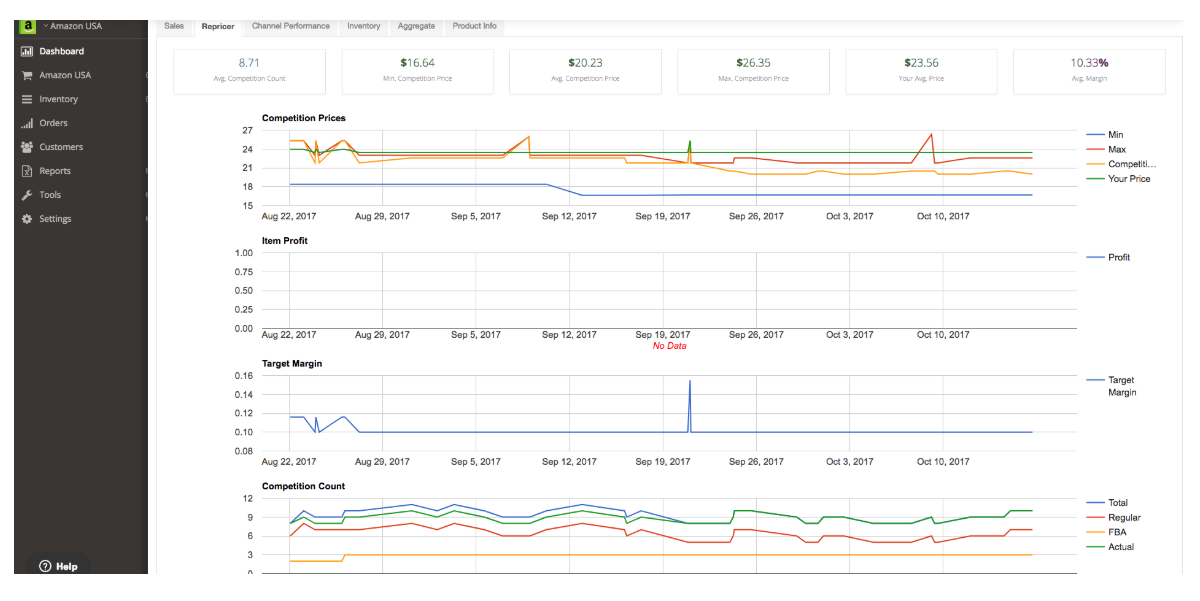 7. Use Free Shipping to Compete
Amazon shoppers expect big deals this Black Friday Cyber Monday and by including things like free shipping, you can sweeten the deal. But do your math first to ensure shipping isn't eating into your profits. There are a variety of ways you can offer free shipping options to increase sales this BFCM without killing profits, so get creative! Here are two ideas to get you started:
Offer free shipping while upselling faster shipping options

Offer free shipping over a certain spend threshold or only on certain products
8. Use Social Media Ads and Content to Create Hype
With off-platform marketing, you can run awareness and remarketing campaigns to create a buzz around your Amazon Black Friday Cyber Monday deals. The best way to do this is with teaser posts to your social followers as well as remarketing campaigns on Facebook, Instagram and through email. Remember, it's cheaper to convert a repeat shopper than a new customer!
By creating a promotional landing page – that links to your Amazon listings – you can then market your Amazon promotions to wider audiences ahead of time while also reminding your previous happy customers about your brand. Essentially driving traffic to your landing page, funneling them onto the relevant Amazon product listing.
This doesn't just create hype but keeps your Amazon brand fresh in their minds at a time when they are bombarded by marketing messages.
9. Think Bigger than Black Friday Cyber Monday 2018
As they say, you don't want to put all your eggs in one basket. Yes, Black Friday Cyber Monday is huge for Amazon sellers, but there is also tremendous competition. You need to be strategic and think bigger than just Thanksgiving weekend.
Consider pre-BFCM promotions to get people to your Amazon store early, think of those products that make good holiday gifts and offer gift wrapping. But whatever strategies you come up with, remember to keep your customer service top-notch to help you turn one-time shoppers into loyal customers for 2019. Keep one eye on the bigger picture: using Black Friday Cyber Monday Amazon traffic to scale up your business in 2019.
—
There you have it; 9 ways to increase Amazon sales on Black Friday Cyber Monday 2018. From all of us at the StoreAutomator team, happy selling!