There is no beating around the bush; the COVID-19 pandemic has affected a lot of us directly and indirectly, in terms of health, wellness, and economics – and a lot of you have reached out to us specifically about the business challenges you are currently facing.
There is no doubt that 2020 has brought with it a unique set of challenges, forcing a lot of us to make quick decisions and business pivots in terms of the products we offer, our logistic strategies, and the ways we approach customer service.
Below we address some of the biggest challenges multichannel business owners are currently facing.
Challenge 1: Drastically Reduced Revenue
One of the biggest challenges facing multichannel sellers in particular niches or those targeting specific markets this year is a drastic or complete drop-in product demand. This has been felt explicitly by B2B sellers who sell products to services that have been locked down – with some niches coming to a complete standstill.
Challenge 2: Inventory Sourcing, Management, and Delays
Unless you are exclusively manufacturing your products in-house, you're probably having significant issues with inventories in 2020. COVID-19 has dramatically disrupted inventory flow, with a lot of brands running out of certain products more frequently, experiencing considerable delays in products from suppliers, or, in some cases, facing complete supplier shutdowns.
Challenge 3: Pivoting Marketing Strategies to Find Opportunities
Another challenge is adjusting marketing as the industry changes. This can be as simple as changing ad text so as not to seem tone-deaf to the current situation in the area you are marketing to or reviewing your whole marketing strategy from the ground up.
Challenge 4: Shifting Certain Business Activities From in-House to Online
The last big challenge many multichannel businesses are facing this year is shifting their backend business online. In some cases, this means moving admin tasks and teams online as they work from home during lockdowns. Or dealing with closed brick-and-mortar locations and having to put a bigger focus on online sales.
To help address these challenges you and other sellers and brands are facing, we put together this post of the 7 top tips on how to overcome these COVID-19 ecommerce challenges, collected from our most successful multichannel brands.
1. Be Prepared to Wait it Out
In some cases, you may have no choice but to wait out lockdowns, service shutdowns, and niche slowdown. In some cases, such as those selling in travel gear niches, you will need to take a minute before you decide how to remarket products or include other products in your brand, that are in higher demand. For some, you will need to batten down the hatches and wait for your niche to open up. Something that TapeCase knows about all too well. Here's their top tip on what brands in this situation should do.
"Hang in there and wait it out! Cut expenses and unnecessary overhead to the bone while you preserve cash and cash flow. Apply for PPP, whether you need it or not. Equally important, be honest with both your market and products. This means, despite your demand drops, keep your prices fair and offer top-shelf customer service. This means not quibbling over small things; in the end, a $10 allowance, even a $100 allowance not given, can snowball into a destroyed reputation."
While Nick from PCI suggests multichannel business owners should also be diversifying their revenue in a big way.
"We moved into investments in a big way to reduce our dependency selling; this includes looking at real estate investments."
2. Start Exploring Other Product Niche Trends
Yes, the pandemic has brought a lot more challenges than opportunities, but that doesn't mean opportunities don't exist. If you're selling to a target audience that will not be bouncing back any time soon or selling products that are just not moving, it may be time to pivot. This could mean opening up brand new categories related to your niche under your brand, which already has a good reputation. A good example of a brand that has done this is AHAVA, who developed hand sanitizers for their beauty and skincare brand.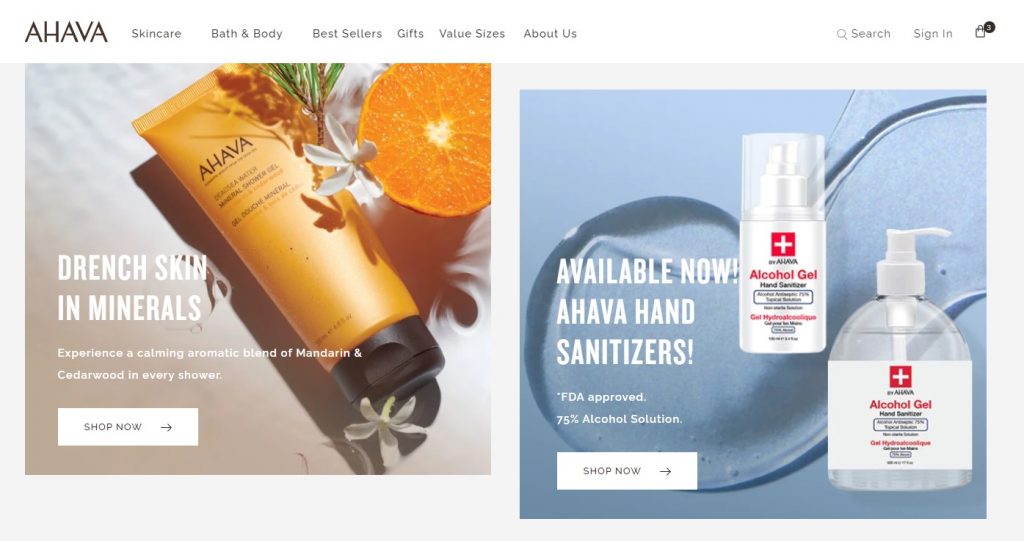 3. Make Strategic Changes to Your Supply Strategies
A lot of businesses have either experienced or are currently dealing with shipping delays and factory shutdowns. There are two main ways you can deal with this:
Find new suppliers or fulfillment services closer to home, or diversify your suppliers.

Reduce shipping delays by looking at dropshipping options with your current suppliers.
---
Bonus Tip: New to dropshipping? You can easily incorporate dropshipping into your multichannel business. Visit our Why and How to Incorporate Dropshipping into Your Multichannel Business guide to finding out more.
---
Tom from GRC Commerce was dealing with this exact issue. Here is how they dealt with it:
"One of our biggest struggles during the peak of the pandemic was keeping inventory in stock. Due to freight slowdowns and factory shutdowns, we needed to search for different suppliers to supplement our inventory needs. This also meant directly importing instead of purchasing through current suppliers."
4. Make Inventory Management Your Top Priority
You will also need to ensure you can manage these industry changes as quickly and effectively as possible. Unforeseen supply issues and disruptions are particularly detrimental for businesses selling across a variety of channels. The best way to counteract this is by investing in a good inventory management system.
Here is what Daniel from Chuck Levin's Washington Music Center had to say about how StoreAutomator is helping them successfully manage inventory across their brick-and-mortar and online channels during the pandemic:
"StoreAutomator helps us list products quickly and accurately by allowing us to generate products seamlessly via API, so we can get them out to multiple channels quickly. We also take advantage of StoreAutomator's template tools, which help us prevent overselling and run promotions."

He also recommends that you adjust your procurement strategies/calculations to focus on keeping products with increased demand in stock and ready to ship. While also working with your suppliers to set up drop shipping programs directly – which you can also do with StoreAutomator.
5. Take Advantage of Better Online Ad Metrics
One of the few positives to come out of 2020 is increased click rates and reduced ad costs. If you haven't been increasing investments in Google, Facebook, and Amazon ads, you're missing out. Many brands, including our top merchant Chuck Levin, are currently getting far better conversion rates for their online advertising than previous years. While Tom from GRC Commerce suggests the following:
"For sellers on Amazon, if you have cut PPC advertising due to the economic downturn, start experimenting by increasing spending. Experiment by focusing on a small number of your top sellers. If you can balance between spend and ACoS, you can get ahead of your competition."
To help you take advantage of these improved metrics, we suggest visiting these top multichannel marketing guides:
6. Include Social Awareness Marketing Strategies to Build Your Brand
Another way you counteract the challenge of shifting markets, product demand drops, and industry changes is to shift your marketing focus to build branding. An excellent example of a brand that has had big success with this is GRC Commerce. During the pandemic's peak, they ran a charity campaign to donate protective equipment (masks, shields, and goggles) to doctors and nurses on the front line. Not only did this raise their level of teamwork and communication, but supported their local communities as a brand, by getting involved in a cause that meant a lot to their shoppers.
7. Use the Right Tools, Apps, and Software
Last but not least, you need the right tools, apps, and software to help move your offline business and administration online. This will help you streamline your back-end business, adapt to industry and product changes, and stay in touch with your teams.
---
Pro Tip:
This isn't just about managing products and teams. You also need to rethink how you can help your sales teams and staff communicate with customers through live streaming on social media channels and video conferencing. This is particularly important for those who have been relying heavily on offsite stores to engage with customers.
---
Here are tool recommendations from top multichannel sellers that help them overcome the challenges the COVID-19 pandemic brought their businesses.
There you have it, 7 tips from successful multichannel brands on how to overcome COVID-19 ecommerce challenges.