In 2017 ecommerce revenue reached over $400 billion and is expected to grow 9% per annum$400 billion and is expected to grow 9% per annum through to 2020. Some 43.5% of that can be attributed to Amazon, followed by eBay at 6%. The trick to cashing in all this 9% growth is ensuring you sell your products on more than one platform.  Multichannel ecommerce allows online store owners to increase sales streams, reach broader audiences of potential shoppers, and gives you the ability to diversify your product offerings. Before we can build an effective multichannel ecommerce business, let's look at the three top-selling channels you should use to sell your products and why they're essential to your sales.
There are a variety of types of sales channels. These include:
Daily deals sites (Groupon)

General marketplace (Amazon)

On-demand production marketplace (Cafepress)

Handmade and crafts marketplace (Etsy)

Auction marketplace (eBay)

Social media (Facebook, Instagram)

Niche marketplace (Not On The High Street)

Subscription box service (Cratejoy)

Classified listings website (Craigslist)
Top 3 Selling Channels for ecommerce
Top Selling Channel 1: Online Store Website
The first channel we will look at is your website. For those of you only selling on third-party sites such as Amazon or eBay, or who have a retail store and want to take your business online, adding your store enables you to build a stronger brand, making you more trustworthy.
The more potential shoppers trust you, the higher your chances are of converting them to your online store. Plus, you don't have to give a marketplace a cut of your profits.
Additionally, having your own branded store gives you a space you can connect directly with your customers, gives you more control over your sales as you don't need to adhere to third-party rules, and helps you build customer loyalty.
With the rise of platforms like the new up-and-comer Gearlaunch or Shopify, putting together your own branded store, whether you're dropshipping or making your products, has never been easier – or cheaper!
Top Selling Channel 2: Amazon
As mentioned above, Amazon took over 40% of the ecommerce revenue in 2017. Amazon is a powerhouse. Over 40% of its platform sales are allocated to third-party sellers. The bottom line? If you're not selling on Amazon, you're missing out big time on a broad group of potential shoppers.
For those of you who have your store and are looking to add a selling channel, Amazon should be your point of call. Here is a brief tutorial on what plans Amazon offers.
Top Selling Channel 3: eBay
eBay is well established as a popular channel making billions in yearly revenue. Although traditionally an auction place, its 'Buy Now' feature allows ecommerce sellers to use eBay like any other selling platform. eBay is said to have more than 25 million sellers and is ideal for sellers with competitively priced products and can be a lucrative channel addition when growing your product reach.
Pro Tip: The trick to going from single to multichannel selling is finding and choosing channels that fit your brand, product, niche, and target shopper. Other popular channels to consider, which I didn't list above, include Etsy and Groupon.
5 Tips to Build an Effective MultiChannel ecommerce Business
Tip 1: Choose Your Channels Based on Profitabilit
y
Whether you're an online store or a retailer looking to go online, the first step of turning your single-channel business into a multichannel is choosing the channels you want to add. To do that, you will want to check which channel is best for your targeted potential customer, the niche you're selling in, fulfillment logistics, and ultimately the cost of selling on these platforms.  
Let's take Amazon, for example. Amazon costs around $33 a month, plus the added administration and expense of fitting in with their guidelines. If you want to add Amazon as a channel, you will need to consider the extra cost, gauge your competition's prices and adjust accordingly. This may be worth it for some products or niches but not for others.
Pro Tip: Expand to one channel at a time. Try calculating profitability forecasts on all possible channels and start with the most profitable channel. Once you have mastered the logistics of one channel, then look at expanding to others.
Tip 2: Managing Inventory
Ensuring good, organized inventory management is the first and most crucial tip to building an effective multichannel business. Adding channels can make inventory management difficult, as you must ensure that every time you update product availability and prices, you do so across all selling platforms.
For instance. If you have ten black sweaters in stock and then sell one on Amazon and three on eBay, you want to make sure your website stock is altered to 6 black sweaters on all platforms to prevent yourself from selling more stock than you have. You can implement two inventory management tactics to ensure you can provide good service and not spend valuable marketing time on backend management. The easiest way to do this is to use one tool or dashboard, like StoreAutomator's product data tool, which automatically updates inventory and prices across all your channels in real-time.
Whichever tool or system you use, keeping inventory accurate is vital to the success of a multichannel business.
Tip 3: Tweak Strategies to Fit the Channel
As I mentioned previously, you will want to choose the channels best suited for your potential customers first. Adapting your strategy and experience to meet customers on that platform is also essential.  
For example, on Etsy, you will want to highlight the craft of your own-manufactured product, whereas, on eBay, you may focus on highlighting the affordability. If you sell a wide variety of products and can't tweak every description, at least adapt the descriptions for your most popular products.
By tweaking your approach to match shoppers on each platform, you will have a much better chance of making the sale when marketing to that channel.
Here's an example of what I mean:
Say you offer free delivery on your website without the option of upselling faster shipping; this strategy would not work for Amazon shoppers who are used to getting everything quickly – which is why Amazon's shipping policies are so strict. Instead, you will need to adjust your pricing and shipping policies to fit with Amazon and its shoppers. With tools such as Amazon's Fulfillment, you can adapt to that platform without the extra administration.
Tip 4: Don't Trade Killer Customer Service for Channels
Nothing hurts a brand or a seller more than bad customer service. When extending your business across channels, it's vitally important that your support and service don't waver. This can be tedious but very important to ensure you don't lose brand trust or get booted off a marketplace for poor customer service.
As your business grows, dealing with this can cost you much time. Eventually, you should hire customer service reps to help or at least invest in tools such as Freshdesk that give you one central platform to deal with all your customer service and support issues in one place.
Tip 5: Keep a Close Eye on Analytics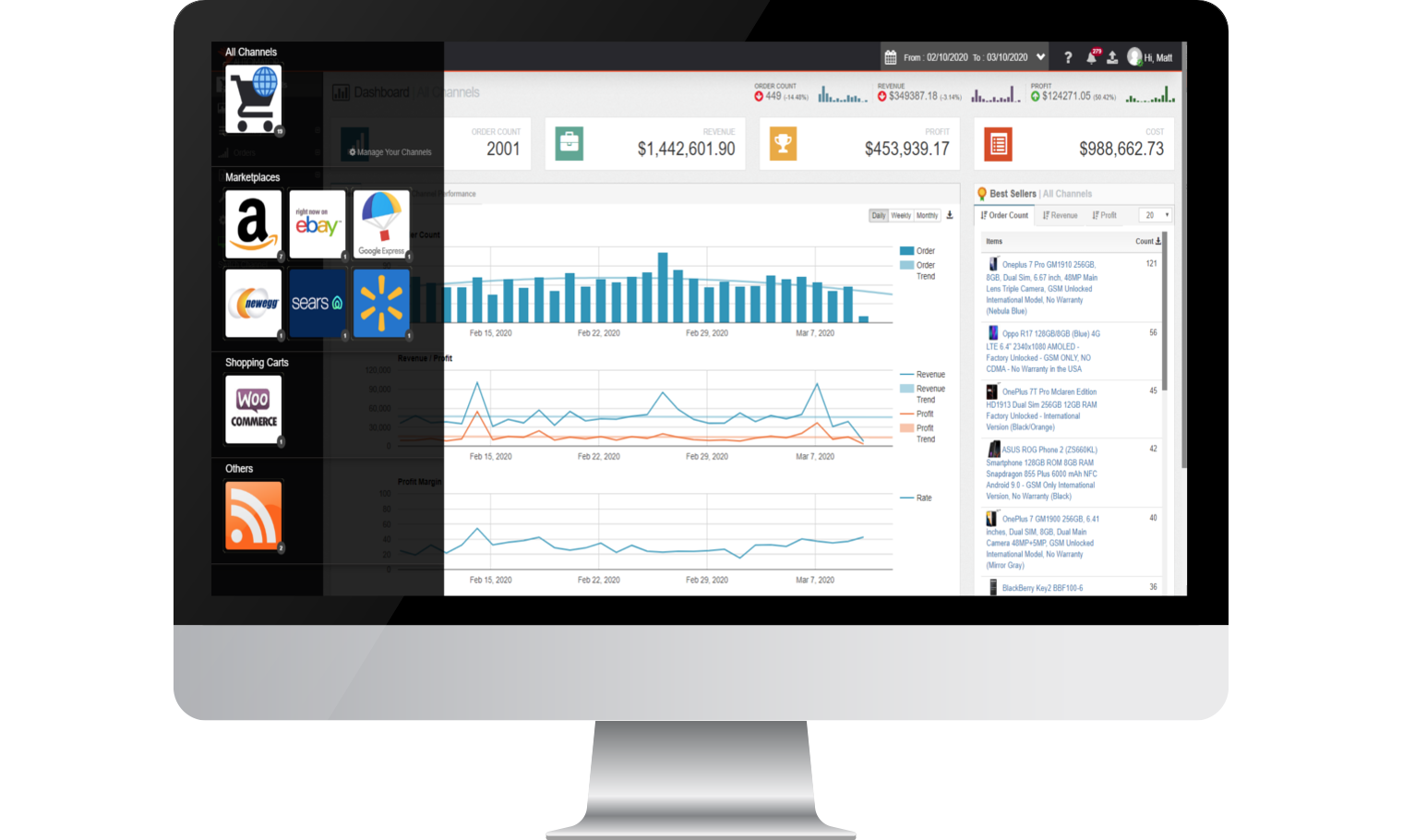 To create a lucrative multichannel business, you will need to closely examine each channel's analytics to ensure you know where sales are coming from (or aren't coming from) and make the necessary optimization tweaks. Multichannel Analytics will tell you:
Who is buying from where on each channel

How much they are spending

Which products are being left in the cart without checkout

Which products on which channels are bringing you the best ROIs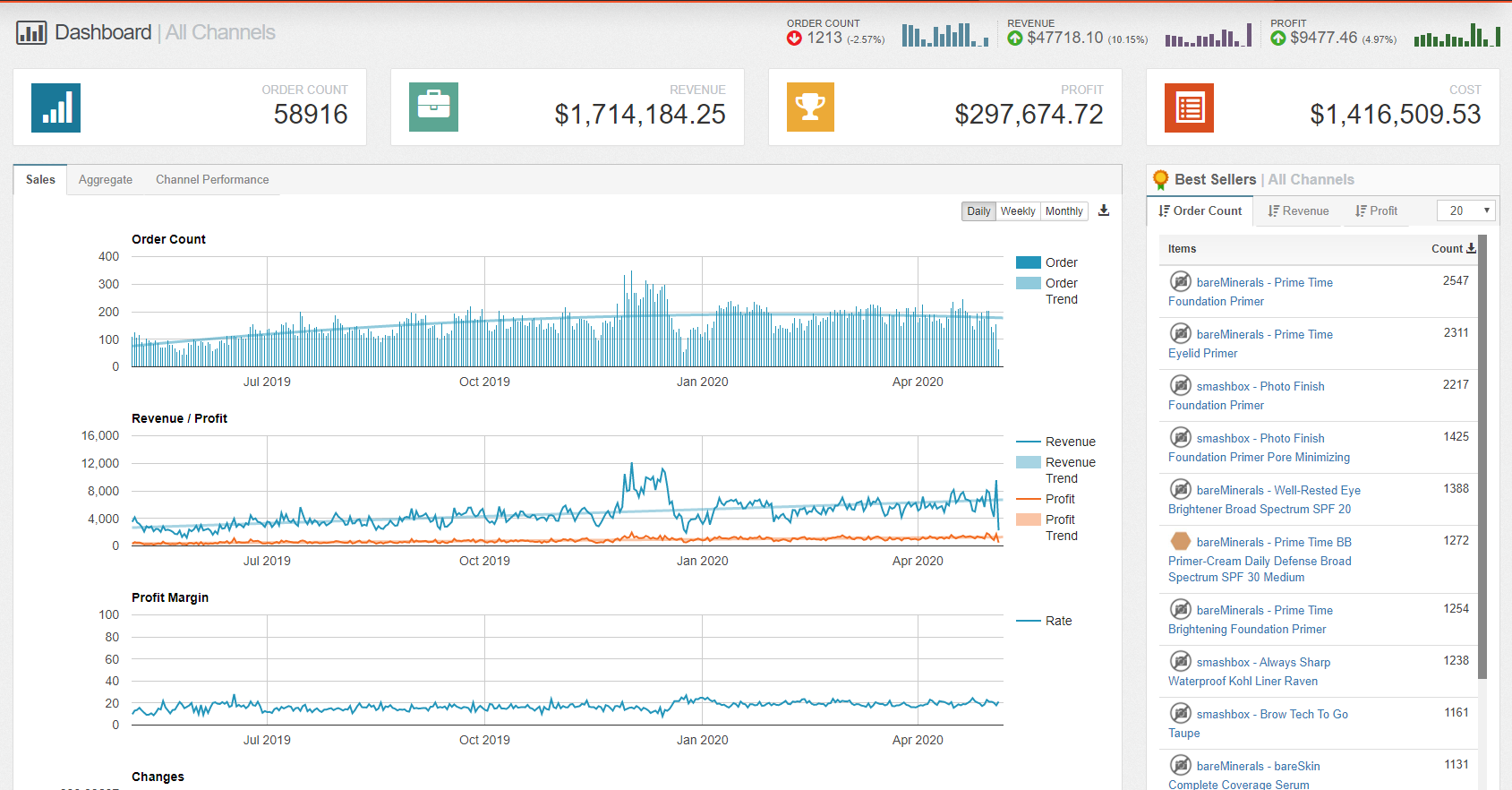 Sales will differ from platform to platform as each seller platform is created for a different audience type. By looking at the analytics closely, you can make the changes needed to boost sales on that specific platform. For example, if your Amazon sales are considerably lower than other channels, you may want to look at how you could speed up shipping on that product.
Ultimately having the data is essential for the growth of your multichannel business. The easiest way to compare information is to use an integrated analytics tool such as StoreAutomator that will give you a comparison in one place. StoreAutomator's dashboard provides a complete business overview, providing analytics such as sales, profit, margins and product performance per channel, inventory quantity levels, aggregate sales performance by date/month/year, and product variance performance.
—
As you increase channels to build your multichannel business, the bottom line is that you need to ensure that your management, fulfillment, marketing, strategies, and customer service are growing with you. Efficiency is the key to success; without successful management, you can do more harm than good. So start slow, add a channel at a time, and invest in the tools and platforms available to streamline the process and grow your business and customer loyalty.